SETTING UP THE RealOne™ PLAYER
(Microsoft Windows)
You should have already loaded and installed the RealOne Player. If the player appears in its small size (picture 2 below), you can skip this part of our suggestions and go to part 2.

1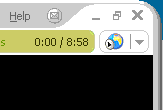 If the RealOnePlayer fills the screen or almost fills it, reduce it to its smallest size by clicking the "double-window" icon in the upper right corner of the window. This icon is at the left of the "X" that closes the window.
2

The RealOne player should look like this now, or almost the same. It does not matter if the name of a story or other file is not shown now. Click on the word "View" at the top center of the player image. This will drop down a long menu. The bottom of the menu looks like the image below .
3
If there is no check mark there, click on the words "On Top While Playing" to make the check mark visible. That completes the setup.