The Mendele Review: Yiddish Literature and Language
(A Companion to MENDELE)
---------------------------------------------------------
Contents of Vol. 10.003 [Sequential No. 168]
Date: 27 March 2006

1) This issue of TMR  (ed). 
2) Artists' Portraits of Yiddish Writers, 2nd Series (David Mazower)      
3) Two languages locked in embrace: Hebrew and Yiddish (Zelda Kahan Newman)
4) A Reply to Ghil'ad Zuckermann on "Israeli" (Amitai HaLevi)
5)  Remembering Sophie Tucker (1884-1966)
  a. A general description of Sophie Tucker's life
  b. "Mayn yidishe mame" in Yiddish by Sophie Tucker, 1928 – audio file (Jan Hovers)
  c.  Yiddish text of "Mayn yidishe mame" (ed.)
  d. Romanized text of "Mayn yidishe mame" (ed.)
  e. "Mayn yidishe mame" in English by Sophie Tucker, 1928 – audio file  (Jan Hovers)
  f.  Sophie Tucker's 1928 Dutch "Mayn yidishe mame" record illustrated (Jan Hovers)
  g.  Leo Fuld's Dutch record of "Mayn yidishe mame" illustrated (Jan Hovers)
6) Adina Bar-El's Grininke beymelekh – a further notice (ed.)

Click here to enter:  http://yiddish.haifa.ac.il/tmr/tmr10/tmr10003.htm
<![if !supportLineBreakNewLine]>
<![endif]>
1)----------------------------------------
Date: 27 March 2006
From: ed.
Subject: This issue of TMR.
This issue is richly attuned to both eye and ear. *David Mazower continues his project, begun in TMR vol. 10, no.2, of displaying portraits of Yiddish authors by graphic artists of note. *Zelda Kahan Newman and Amitai HaLevi respond to Ghil'ad Zuckermann's writings on "Israeli".  *The fortieth anniversary of Sophie Tucker's death is marked by featuring the great comedienne singing that masterwork of deep nostalgia, "Mayn yidishe mame" (also known as "A yidishe mame"), a classic in the Jewish-American musical repertoire, and an historical marker as well of the heroic immigrant experience. A 1928 Dutch 78'' recording provided by Jan Hovers' site (www.78rpm.hovers.nl) gives us the basic Yiddish version on one side and an English version on the other. The Tucker items in this issue begin with a useful link to a review of the singer's life that does not omit her significant feminist and progressivist contributions. The song "Mayn yidishe mame" can be heard in its two versions and the picture of the actual 78'' record is given. An additional Dutch version of the same song sung by Leo Fuld is also illustrated here. This rich material is gathered here thanks to the generosity and cooperation of Jan Hovers. The transcription of the lyrics of the song, in Yiddish and in Latin letters, is by the editor. He was assisted in identifying a number of hard- to-distinguish words by Ben-Zion Ronen. If TMR readers hear other words, they are invited to let us know what they are. Readers will of course catch the Americanisms (e.g kitshn 'kitchen') and the dialecticisms (e.g. fin [fun] 'from').  *Please note the revision in the notice of Grininke beymelekh, which incidentally was recently very favorably reviewed in HaAretz by Benny Mer (HaAretz [24.3.06, p. hey 1], or click here for an online version).

2)----------------------------------------
Date: 27 March 2006
From: David Mazower
Subject: Artists' Portraits of Yiddish Writers, 2nd Series
Artists' Portraits of Yiddish Writers
By David Mazower
My previous article on the subject of artists' portraits of 20th-century Yiddish writers ended with an invitation to readers to come forward with information about other similar portraits.  I am grateful to three correspondents who did so.
Joseph Opatoshu's grandson, Dan Opatoshu, wrote with details of several portraits of his grandfather by contemporary Jewish artists. They include "lifesize busts, woodcuts, ivory carvings, Chagall pen and inks, and even satirical cartoons from the European and American Yiddish press".
The Yiddish literary scholar Joseph Sherman, who is currently completing a biography of Dovid Bergelson, is keen to trace a portrait of Bergelson mentioned in a memoir by the writer Rokhl Korn. In an essay entitled "The Destruction of Yiddish Culture" she describes visiting Bergelson in his home in Moscow during WW2 and being shown the portrait by Bergelson himself.  Its current whereabouts are unknown.
And Zachary Baker mentioned a portrait of the Montreal Yiddish poet Ida Maze by the artist Louis Muhlstock. He also recalled the reading room of the old YIVO library on Fifth Avenue:
"There were a number of artists' portraits of Yiddish writers on the wall behind the circulation desk. I am unable to recall exactly which ones hung there, though one in particular really stood out: a self-portrait, in oil, by Moyshe Leyb Halpern. I believe that there were portraits of Sholem Aleichem, H Leyvik and Jacob Glatstein as well. There was a bas-relief of Peretz, which once prompted a perplexed Xerox repairman of West Indian background to ask me why we had a sculpture of Stalin hanging there."
I hope to include illustrations of some of these portraits in future articles in this series.
Mention of Moyshe Leyb Halpern's self-portrait also serves as a reminder of the large number of artist-writers and writer-artists in the Yiddish literary world, the former group being considerably more numerous than the latter. 
The Yiddish-speaking artists who contributed occasional art criticism, prose, poetry or memoirs to the Yiddish press include: Yude Tofel, Isak Likhtnshteyn, Louis Lozovik, Boris Aronson, Yonye Fayn, Yankl Adler, Uriel Birnbaum, Moyshe Oved, and, of course, Mark Chagall. Another was Josef Herman, whose sketch of the Whitechapel Yiddish poet Avrom-Nokhem Shtensl is included below.  Far fewer writers displayed anything like comparable artistic ability. Apart from Moyshe Leyb Halpern, Moyshe Broderzon was an accomplished artist, and Sutzkever was capable of some very good self-caricatures. Even rarer are those who have made equally significant and talented contributions in both spheres. Yonye Fayn, the Brooklyn-based artist and author born in Russia in 1914, who has defied his increasing infirmity and continued to produce remarkable work with an intensity and vigor of a man half his age, is one notable example.  Another is that of Yosl Kotler, the brilliant radical satirist, pupeteer, sketch-writer and caricaturist.  The prodigious talents of Kotler and his partner Zuni Maud have yet to be properly documented.  I have included some of Maud's work in this issue, but his remarkable artistic gifts and extraordinary range of caricature portraits of modern Yiddish writers deserve a full gallery of their own in a future edition.  
Gallery:
Josef Herman (1911 - 2000)
Born in Warsaw in 1911, Herman matured as an artist in Poland in the 1930s. He escaped via France to Britain, and became perhaps the leading postwar representative of a continental tradition in British art.  Fluent in several languages including Yiddish, Herman was a cosmopolitan humanist who nonetheless maintained a lifelong attachment to Yiddish culture and Jewish tradition.  He is a masterful colorist, whose dark, brooding oil paintings are light up by intense enamel-like flashes of colour. He was also a prolific draughtsman who left behind a vast quantity of sketches and notebooks when he died a few years ago.
Herman wrote regularly on art for The Jewish Quarterly, a literary magazine edited by his friend and fellow Polish-Jewish émigré, Jacob Sonntag.  He was also closely involved with Yiddish cultural groups in London, and especially with the Yiddish-speaking circle in Whitechapel organised by the poet Avrom-Nokhem Shtensl (1897 - 1983). Born into a distinguished rabbinical family in Poland, Shtensl achieved an international reputation as a Yiddish poet in Weimar Germany, fled the Nazis and arrived in London in the mid-1930s. Passionately devoted to the Yiddish language and his beloved Whitechapel, he became a familiar figure in the East End as the editor, leading contributor and chief salesman of the Yiddish literary magazine Loshn un lebn (Language and Life). 
Herman's sketch of Shtensl was one of several he made in the 1940s, perhaps observed during one of the poet's regular shabes literarishe nokhmitogs, Saturday afternoon literary gatherings often held in those days above a kosher café on the Whitechapel Road.
<![if !supportLineBreakNewLine]>
<![endif]>
<![if !vml]>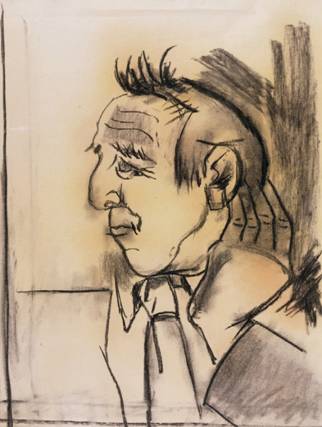 <![endif]>

Portrait sketch of Avrom-Nokhem Shtensl
By Josef Herman
(click here for higher resolution)
Charcoal and pencil on paper, 60 x 46.5 cm
c. 1946
Ben Uri Gallery - the London Museum of Jewish Art
Zygmunt Menkes (1896 - 1986)
The artist Zigmunt Menkes and the writer Sholem Ash were friends and compatriots whose lives followed similar paths: both were born and grew up in Poland, lived in France in the 1920s and 30s, and spent their later years in the United States.
Menkes was born in present-day Lviv (formerly Lvov/Lemberg) and studied art in Poland and then Berlin. He settled in Paris in 1923, and became a leading member of the Montparnasse colony of Jewish émigré artists, along with Eugene Zak, Raymond Kanelba, Leopold Gottlieb, Leon Weissberg and many others.  Menkes was one of the most lyrical colorists of the School of Paris group and continued to paint his soulful, dark-hued portraits, nudes, still-lives and paintings of Jewish religious life until well into his eighties.  In 1935 he left for New York, and eventually settled in Riverdale, New York where he died in 1986.  
Asch and Menkes both frequented the same Paris hang-outs, notably cafes like La Rotonde and Le Dome.  Asch owned one of  Menkes' finest Jewish subjects, a large double portrait of a father and son enveloped in a prayer-shawl, which hangs to this day in the study of the Asch house-museum in Bat Yam, Israel.  This portrait, painted shortly after both men had found refuge from Nazi-occupied Europe in the United States, was presumably commissioned by Asch himself. 
<![if !supportLineBreakNewLine]>
<![endif]>
<![if !vml]>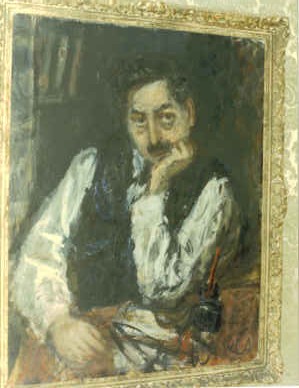 <![endif]>

Portrait of Sholem Ash
by Zygmunt Menkes
Oil on canvas,
c 1940
Private collection, UK

<![if !supportLineBreakNewLine]>
<![endif]>
Henryk Berlewi (1894 - 1967)
Berlewi was born in Warsaw, and spent his early years as an artist moving between Poland, France and Germany.  An important practitioner and theorist of modern graphic and abstract art,  Berlewi was also a highly skilled draughtsman who sketched most of the leading figures in Warsaw's thriving Yiddish literary and cultural scene of the 1920s. He died in Paris in 1967.
Menakhem Kipnis was the leading Jewish folklorist in interwar Poland. Popular and likeable, he was a man of many parts: a scholar and professional ethnographer, an enthusiast for Jewish popular culture and folkways, and a much-loved singer and performer. Born in Volynia in the Ukraine in 1878, his childhood was spent as a travelling synagogue chorister. From 1902 to 1918 he sang tenor in the chorus of the Warsaw National Opera. At the same time he began to collect Yiddish folk songs and stories and contribute articles to the Warsaw Yiddish press, writing on cantorial music and folklore. Kipnis was also an accomplished professional photographer whose studies of Polish Jewish life appeared in the Sunday sepia supplements of the New York Yiddish Forverts from the late 1920s. Kipnis died of a blood clot in the Warsaw ghetto in 1942; his enormous collection of Jewish  folklore materials was with him to the end but was never recovered.  
(For more on Berlewi's varied artistic career, see the articles by this author and Seth Wolitz in recent editions of The Mendele Review, TMR vol. 9, no. 5 and TMR vol. 9, no. 6. For details of Kipnis' remarkable life, I am indebted to Itzik Gottesman's recent scholarly monograph Defining the Yiddish Nation / The Jewish Folklorists of Poland, Detroit, Wayne State University Press, 2003)
<![if !vml]>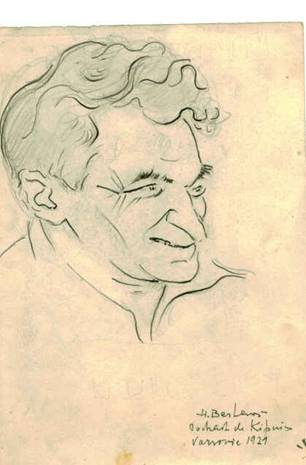 <![endif]>

Portrait of Menakhem Kipnis
by Henryk Berlewi
Pencil on paper,
c1925
Private collection, UK


Zuni Maud (1891 - 1956)
Maud was born in Vashilkov near Grodno, Russia. He came to the United States in 1905 and studied art at Cooper Union Institute and the National Academy of Design.  Maud was soon making a name for himself as a cartoonist for the New York Yiddish press (especially for satirical journals like Der kibitser and  Der groyser kundes) and a prolific illustrator of Yiddish books.  An artist of exceptional fluency and versatility, Maud was equally at home working in oils, woodcut, charcoal or ink. He was also a  humorist who teamed up with the equally gifted and versatile artist/writer Yosl Kotler (and Jack Tworkov) to create an extraordinary Yiddish radical marionette theatre in Manhattan in the 1920s.
Moyshe Nadir (1885 - 1943) was the darling of America's Yiddish-speaking radical and Bohemian intelligentsia following his conversion to the Communist cause.  His dazzling irreverent verses, full of nonsense words and witty rhymes - a sort of cross between Mayakovsky and the Marx Brothers - ensured him a loyal and devoted readership. Maud illustrated an early Nadir pamphlet of erotic verse (Vilde royzn / Wild Roses, published in 1915) and contributed these sketches of Nadir to the celebratory anthology published in 1926.  Maud does a superb job of capturing Nadir's likeness - his mop of curly hair, sleepy eyes and chubby cheeks - while also conveying his egocentric, capricious and sarcastic personality.      
<![if !vml]>
<![endif]>     <![if !vml]>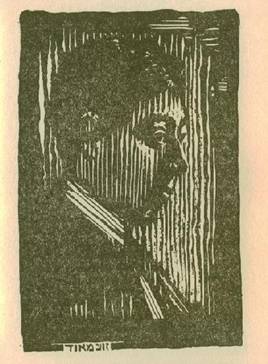 <![endif]>
 <![if !vml]>
<![endif]>    <![if !vml]>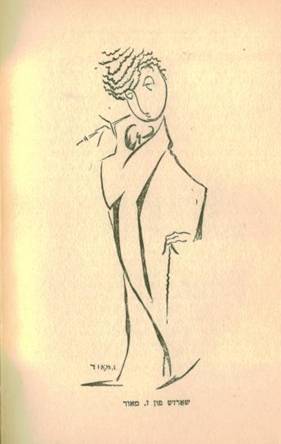 <![endif]>
4 portraits of Moyshe Nadir
by Zuni Maud
(reproduced in Noyekh Shtaynberg: A bukh moyshe nadir, New York, Leben, 1926)
3)---------------------------------------------
Date: 27 March 2006
From: Zelda Kahan Newman
Subject: The identity of two languages locked in embrace: Hebrew and Yiddish
The identity of two languages locked in embrace:
Hebrew and Yiddish
By Zelda Kahan Newman
In recent years Paul Wexler shocked many when he claimed that Yiddish is essentially a Slavic language unrelated to Hebrew or German<![if !supportFootnotes]>[i]<![endif]>, and Ghil`ad Zuckermann got equal shock value from his claim that what he calls "Israeli"<![if !supportFootnotes]>[ii]<![endif]>, and others call "Modern Hebrew" is not the language of Isaiah.<![if !supportFootnotes]>[iii]<![endif]>  I will contend here that these claims rest for the most part on a similar straw man built up only so that it can be knocked down with shock and awe.    There is, however, a serious question that their claims raise.  It is an ontological question that has vexed philosophers since Heraclites and one that we would do well to consider.  I will do my best to provide an answer to this question and I invite others to consider the issue seriously.  Finally, my own research has shown that some of the patterns of Yiddish are derived from the Hebrew-Aramaic that the Jews who settled in Ashkenaz brought with them from the land of Israel.  These very same patterns, now "native Yiddish", have influenced Modern Hebrew.  Accordingly, Yiddish, from its inception a Jewish  language, now has a significant "Semitic" component, and as Modern Hebrew was revived by Yiddish speakers, it re-acquired these ancient Semitic patterns from Yiddish speakers.  We see here a loop of interaction and interdependence.  Hebrew and Yiddish, then, are two Jewish languages locked in embrace.
Wexler claims that Yiddish arose in a mixed Sorbian (Slavic)-Germanic environment.  The speakers of Early Yiddish "relexified" their language to High German early on (between the 9th and the 12th centuries), and then (at least 300 years later), "relexified" their speech once again to the Yiddish that Ashkenazic immigrants brought with them to their area.<![if !supportFootnotes]>[iv]<![endif]>  This makes Yiddish, according to Wexler, a Slavic language.<![if !supportFootnotes]>[v]<![endif]>
If one were to agree with Wexler that Yiddish is essentially a Slavic language (as Zuckermann appears to do), and if one were to suppose that Yiddish is the sole component of the newly revived Hebrew language,  then one would have to conclude that Hebrew is also a Slavic language.  However, while Wexler makes this last claim, Zuckermann does not.  As Zuckermann sees it, the revivers of Modern Hebrew, all native speakers of Yiddish themselves, did in fact transfer the linguistic patterns of Yiddish to this new creation of theirs.  However, he claims that Yiddish is only one of the contributors to Modern Hebrew.  As he sees it, older forms of Hebrew as well as Yiddish "act equally as primary contributors"<![if !supportFootnotes]>[vi]<![endif]> to Modern Hebrew.  He admits that "while Israeli phonetics, phonology and syntax are European, its morphology and basic vocabulary are mainly- albeit not exclusively- Semitic."<![if !supportFootnotes]>[vii]<![endif]>
For all that the claims of Wexler and Zuckermann seem outlandish, a look at the finer print of their writings shows that they set up a straw man only so that they can knock it down with great fanfare.  Wexler claims that Yiddish is not genetically a Germanic language<![if !supportFootnotes]>[viii]<![endif]> and Zuckermann claims that Modern Hebrew can not be "genetically classified"<![if !supportFootnotes]>[ix]<![endif]> as a Semitic language.  But as both know, and Zuckermann himself so aptly puts it, "the reality of linguistic genesis is far more complex than a simple family tree allows."<![if !supportFootnotes]>[x]<![endif]>  Even languages that are not "engineered" (as Hebrew was) undergo non-genetic changes.  Areas are invaded and conquered or over-run, the conquerors, (or new immigrants), speakers of an alien language, lend new elements to the over-run language.  We need only consider what the Norman Conquest did to English<![if !supportFootnotes]>[xi]<![endif]>.  Occasionally, interaction between two very different languages is entirely peaceable.  If the interacting languages are radically different, the result of this inter-action is serious non-genetic change.  This has occurred in the Carpathian region of Hungary-Romania, where the meeting of a Romance language and a Finno-Ugric language resulted in a new mixed language that incorporated features of both languages.<![if !supportFootnotes]>[xii]<![endif]> 
Once we learn to look past the red herring of genetic linkage, we will find a hidden agenda behind the claims of both Wexler and Zuckermann.  Both feel there is a need to sever the link between ancient and Modern Hebrew.  Wexler makes no attempt to keep his agenda secret: "The explicit purpose of resurrecting "Old Hebrew" was to justify the claim of most contemporary Jews to be descended from an earlier Palestinian Jewish people and hence the sole [sic!] rightful heirs to Palestine, their ancient historical homeland."<![if !supportFootnotes]>[xiii]<![endif]>  Here is Zuckermann with a variation on Wexler's theme: "Israeli children are brainwashed [sic!] into believing that the "Old Testament" [italics are mine. Z.K.N.] was written in their mother tongue...[and that] Hebrew and "Israeli" are, axiomatically, the same."<![if !supportFootnotes]>[xiv]<![endif]>
First to Wexler.  Few thoughtful contemporary Jews would be foolish enough to contend that all modern Jews are "descended from an earlier Palestinian Jewish people".  Nor has the claim been made that any living Ashkenazic Jew has had only forebears who can be directly traced to Palestine.  As for the claim of exclusive rights to the historical homeland, that is an ugly inversion of the Nazi image of an Aryan country that is Jude rein.  The Hebrew Bible itself speaks of non-Jews as a staple part of the historical Jewish homeland.  Jews are expected to share their historical homeland with others. They do so now and they will do so for the foreseeable future.
Zuckermann, who admits that earlier versions of pre-Modern Hebrew contributed to Modern Hebrew, seems to have an ontological problem.  For him, if there is no continuous chain of native speakers of Hebrew, and indeed there is none, then later speakers of Hebrew can not be said to be speaking the same language.  Here we have hit that thorny question first brought up by Heraclites and known to modern philosophy as "Diachronous Identity"<![if !supportFootnotes]>[xv]<![endif]>.
<![if !supportLineBreakNewLine]>
<![endif]>
Different Stages of "the same" object
The problem simply put is: when an object changes over time, in what sense can a later version of that object be considered "the same as" (or "identical to") the earlier version of the object?  Heraclites, of course, had a simple answer: "You cannot step twice into the same river, for other waters and yet others go ever flowing on."<![if !supportFootnotes]>[xvi]<![endif]>  For him, there was no identity over time.  And yet humankind has wanted to consider an object "the same" over time.  How to do this?
Philosophers have attempted all sorts of strategies to get at a satisfactory answer.  Here I will consider only one approach, the one that appeals the most to me.  This approach admits that there are different senses of identity.  In the strict sense, later versions of a changed object are not identical to the original object, but there is a loose sense in which a later version of the object can be said to be identical to an earlier version.<![if !supportFootnotes]>[xvii]<![endif]>  This is possible because the object has different instantations at different moments in time.  At any moment, the later, slightly changed, object is understood to be part of  the same sequence as the instantation that preceded it and the instantation that follows it.  In this way, the earlier members of the sequence are said to be loosely identical with the later members of the sequence.
<![if !supportLineBreakNewLine]>
<![endif]>
Wittgenstein's family of resemblances
In his Philosophical Investigations Wittgenstein addressed the question of what is common to language activities or what makes the various activities into language or part of language.  This is not the same question as we posed above.  Nevertheless, we do well to look at the approach Wittgenstein takes: his insights are worthy of  importation.  If borrowed, they can shed light on our own very vexing question.  Here is what he says about language activities:
"I am saying that these phenomena have no one thing in common which makes us use the same word for all- but that they are related [italics in the original] to one another in many different ways.  And it is because of this relationship, or these relationships, that we call them all language."<![if !supportFootnotes]>[xviii]<![endif]>  Further on he suggests that we examine the disparate phenomena carefully.  "And the result of this examination is: we see a complicated network of similarities overlapping and criss-crossing: sometimes overall similarities, sometimes similarities of detail.  I can think of no better expression to characterize these familiarities than `family resemblances'; for the various resemblances between members of a family: build, features, colour of eyes, gait, temperament, etc., overlap and criss-cross in the same way."<![if !supportFootnotes]>[xix]<![endif]>
If we substitute different stages of a language for Wittgenstein's different language activities and use Wittgenstein's insight about looking for family resemblances, we come up with the following formula for different stages of "the same" language: in order for different instances of language to be considered "the same" language, there must be family resemblances, common crucial elements of language that hold up over time.  And what might these elements be? 
<![if !supportLineBreakNewLine]>
<![endif]>
The Hebrew alphabet
For any Jewish language (and most especially for Hebrew, the Jewish language), the foremost element would have to be the use of the Hebrew alphabet for the written language.  After all, it is the Hebrew alphabet that ties Jews to their cultural heritage. 
As for the other elements, the answer is by no means obvious.  I would like to call on all who think deeply on this issue to give the best answer they can to the question I have posed here.  I have suggestions of my own, but I will be happy to amend them or to entertain other , better suggestions. 
<![if !supportLineBreakNewLine]>
<![endif]>
Core lexical items
In the twentieth century, linguists developed a system of measuring the differences and historical distance between two corpora of language.<![if !supportFootnotes]>[xx]<![endif]>  They took a core of basic vocabulary items consisting of items like body parts, numerals, terms for social relations and geological features and compared the two corpora to see how different they were.  The assumption was that these core lexical items are less subject to change than other parts of a language. Similarities within this basic core of lexical items was said to be a good indication of a genetic relationship.<![if !supportFootnotes]>[xxi]<![endif]>
This concept of a core of crucial lexical items can be used as an  indicator of Jewish Diaspora languages.  Any Jewish Diaspora language must have a core of lexical items for concepts that are uniquely Jewish.  A Jewish language without terms either for bris/brit or mila is unthinkable.  Indispensable, too, are lexical items like t(e)filin, mezuza, matsa, and tora.  Jewish identity is deeply bound up with these terms and there is no way a Jewish language can get by without them.  It is no surprise that we find Hebrew-derived words for all these terms in Yiddish.  We have every reason to expect them in every and any other Jewish Diaspora language in the world.
The core of lexical items for the Hebrew language itself is a different matter entirely.  If Hebrew is to be used not as the second or third language of a community, but as its first language, then we would expect the core lexical items  to be just those that are candidates for the core corpus of any human language.  Terms for social relations (like man and woman, father and mother), terms for food and drink, and for numerals and geographical features are just those that we test for.  And these very terms are the ones that have remained in the vocabulary of Hebrew all these thousands of years.  Speakers of Modern Hebrew (the very speakers that Zuckermann insists on calling speakers of "Israeli") use the very same terms for these concepts as did speakers of Biblical Hebrew.  That alone should be enough of a similarity to make us feel that we are speaking of "the same" language.
<![if !supportLineBreakNewLine]>
<![endif]>
Intonation
If the Hebrew language and the concept of a stable corpus of crucial lexical items run both across Jewish languages (where the core items focus on specifically Jewish items) and within varieties of Hebrew (where core items focus on the basics of all human culture), a specifically Jewish intonation is a cross-pollinating phenomenon.  It is a feature that began with pre-Diaspora Hebrew and Aramaic.   It was carried over to Ashkenazic Yiddish, and it has traveled from there back to Modern Israeli Hebrew.
This is not the place to recapitulate in full my argument for the origins of modern Yiddish intonation.  Briefly put, I have suggested that some of the intonation patterns of modern Yiddish entered the language via the Talmudic chant brought to Ashkenaz by exiles from the land of Israel who chanted the Jerusalem Talmud.  In time, these exiles switched their allegiance to the Babylonian Talmud.  But they continued to chant the Babylonian Talmud as they did the Jerusalem Talmud.  It is this sing-song, transferred to the Yiddish language, that has formed some of the most obviously "Jewish" intonation patterns.<![if !supportFootnotes]>[xxii]<![endif]>
A second paper I have written, this one on the language of one of Aharon Appelfeld's books, finds these very same (now) Yiddish intonation patterns in the  language of a modern Hebrew author.<![if !supportFootnotes]>[xxiii]<![endif]>  It is not as though Appelfeld consciously used these patterns.  The fact is, though, that there is no way to understand the language of his book without assuming that Yiddish intonation lurks in the background.
The only Jewish Diaspora language of which I have some knowledge is Yiddish.  It is tantalizing to suppose that other Jewish languages also have intonational elements that are derived from their community's Talmudic chant pattern.  It is for others with a knowledge of other Jewish languages to pose this question and look for this connection.
<![if !supportLineBreakNewLine]>
<![endif]>
Conclusion
Once we realize that Wexler's and Zuckermann's shocking claims are based on the false assumption that the only possible identity between languages is genetic identity, we are left asking ourselves what it is that gives languages identity over time.  We have argued for a "loose identity" that looks for "family resemblances" between different versions of Hebrew and different Jewish languages.
I have posited three features of a Jewish language.  The first, which travels vertically in time, is a core of stable lexical (culturally Jewish) items.  The second, use of the Hebrew alphabet can (and does) move horizontally across languages.   The third, intonation patterns, have shown that they can (and do) travel in a loop: the ones I know began as features of Hebrew-Aramaic.  They were transferred to Yiddish, and after centuries of lodging in this Diaspora Jewish language, they have been "repatriated" to Hebrew, the primary Jewish language.  Are these the only features that "identify" a Jewish language?  It is likely that there are others.  I invite others to help find them.
Lehman College, CUNY
<![if !supportEndnotes]>

---
<![endif]>

4)---------------------------------------------------------

Date: 27 March 2006
From: Amitai HaLevi
Subject:  A Reply to Ghil'ad Zuckermann re. "Israeli"

Dear Editor of  The Mendele Review,

In maintaining that "Modern Israeli Hebrew is only very partially a direct descendent of Biblical Hebrew," Ghil'ad Zuckermann does violence to the term "descendent".  "Descendent" is not synonymous with "clone". Languages, like people, are the direct descendents of more than one ancestor.  Itzhak Laor's argument that "the Israeli highschool graduate cannot deal with a chapter of  Tanakh that he has not studied beforehand without a Biblical Hebrew dictionary" (true of, say,  the Book of Job but hardly of Genesis or Samuel) is evidence that."the Tanakh is written in a foreign language", makes no more sense that saying that the fact the American highschool  graduate cannot deal with the Canterbury Tales without a glossary, proves that Chaucer wrote in a foreign language.

If what Zuckermann and Laor (whose political agenda is not irrelevant to the issue in question) are really saying is that Modern Israeli Hebrew is not "identical" with Biblical Hebrew, they are breaking through an open door. Secular Hebrew literature of the Enlightenment (Mapu, Smolenskin, Sh. L. Gordon, etc. was indeed written in Biblical Hebrew, but  the language was enriched with Mishnaic Hebrew -- replete with Aramaic and Greek elements -- by Bialik and his contemporaries a century ago. The language of Modern Hebrew literature drew heavily (principally  via Agnon), on Rabbinic Hebrew as well. Nor should we ignore the infusion of  Arabic and Spanish features, derived from the literature of the Golden Age in Spain.

The spoken language is, of course peppered with Yiddish, Russian, French, Arabic, Ladino, etc. Children call their parents "abba" and "ima" (Aramaic), enjoy eating "shnitsl (German) ve-tshipsim (English with a superfluous Hebrew plural), or perhaps "uevos `haminados" (Ladino), but most characteristically "falafel" and "`houmos" (Arabic). Incidentally, there are two classical ways "lenagev" (to wipe, Biblical) houmos with "pitta" (Arabic): with a "vish" or a with a "dukh" (corruption of "durkh"). Not Biblical Hebrew to be sure, but Hebrew nonetheless.

Finally, while the teaching of Tanakh can and should be improved, Israeli teen-agers relate to the lyrics of love songs like "yonati be hagvei hasela" (Song of Songs 2:14) and "el ginat egoz" (Song of Songs 6:11) quite well.


Amitai Halevi

Dr. E.A. Halevi, Professor Emeritus
Department of Chemistry Technion - Israel Institute of Technology, Haifa 32000, Israel

5)--------------------------------------------------------

Date: 27 March 2006
From: Jan Hovers and ed.
Subject: Sophie Tucker Remembered

a. A general description of Sophie Tucker's life

             Please visit   http://www.jwa.org/discover/comedy/tucker.html

b. "Mayn yidishe mame" in Yiddish by Sophie Tucker, 1928 – audio file (Jan Hovers)

             Follow  http://www.78rpm.hovers.nl/tuckerB.wax
<![if !supportLineBreakNewLine]>
<![endif]>


  
c.  Yiddish text of "Mayn yidishe mame" (ed.)

"îÖÇï ééÄãéùò îàÇîò"  [èò÷ñè ÷àÈøéâéøè ôÏåï ÷åìèåø-÷àÈðâøòñ 28/3/06]

 [âòæåðâòï ôÏåï ñàÈôÏé èàÈ÷òø  àéï 1928 àéï ìàÈðãàÈï]

1. Ôé àéê ùèÖ ãå [ãàÈ] àåï èøàÇëè
2. ÷éîè [÷åîè] îéê ôÏàÈø îÖÇï àÇìèò îàÇîò.
3. ðéùè ÷Öï àÈôÌâòôÌàÇ÷èò éòð÷ò
4. àåï ðéùè ÷Öï àÕñâòôÌåöèò ãàÇîò,
5. ðàÈø àÇ îåèòø ôÏåï ôÏòøöÖÇèï [ôÏàø öÖÇèï],
6. ôÏéï [ôÏåï] âøÕñ öøåú àÖÇðâòáÕâï,
7. îéè àÇ ëÌùøä ééÄãéùò äàÇøõ
8. àåï îéè ôÏéì ôÏàÇøÔÖðèò àÕâï.
9. àéï ãé æòìáò ÷ìÖðò øåî÷òñ [öéîòøï]
10. Ôé æé àéæ àÇìè àåï âøåé [âøàÈ] âòÔàÈøï
11. æéöè æé àåï ðÖè àåï çìåîè
12. ôÏéï [ôÏåï] ãé ìàÇðâ-ôÏàÇøâàÇðâòðò éàÈøï
13. Ôòï ãé äÕæ àéæ ôÏåì âòÔòæï
14. îéè ãòí ÷ìàÇðâ ôÏåï ÷éðãòø ùèéîòñ;
15. àéðòí ÷éèùï [÷éê] äàÈè âòùîò÷è
16.ãòø ùáú ÷éâì [÷åâì] îéèï öéîòñ.
17. àéø îòâè îéø âìÖáï àÇæ áÖÇ àéðãæ [àåðãæ]
18. äàÈè ðéè âòôÏòìè ãòø ãìåú;
19. àÈáòø ãàÈê ôÏàÇø àéðãæ [àåðãæ] ãé ÷éðãòø
20. äàÈè âò÷ìò÷è àÕó  àÇìòñ.
21. ãàÈñ ùèé÷ì áøÕè ôÏéï [ôÏåï] îÕì
22. ôÏìòâ æé àéðãæ [àåðãæ] ôÏøÖÇÔéìé÷ âòáï,
23. àåï ôÏàÇø àéøò ÷éðãòø ÔàÈìè æé ãàÈê àÇÔò÷âòìÖâè ãòí ìòáï.
24. àÇìÖï âòøàÈîè, àÇìÖï âòðÖè, àÇìÖï âòÔàÇùï àåï âòáéâìè,
25. âòàÇøáòè áÖÇ èàÈâ, âòàÇøáòè áÖÇ ðàÇëè
26. àåï àéîòø [ùèòðãé÷] àÇ ÷éðã âòÔéâìè.
27. àåï àÈè ãàÈñ äÖñè àÇ ééÄãéùò îàÇîò.
28. àåï Ôé âìé÷ìòê æÖÇè àéø îòðèùï
29. ÔàÈñ àéø äàÈè ðàÈê àÖÇòøò îàÇîòñ,
30. ãòí àÖáòøùèï ãàÇøôÏè àéø áòðèùï
31. àåï îéè àéø ùÖèì ùòîè æàÇê [æéê] ðéè
32. àåï äàÇìè àéø ðéè ôÏàÇøäàÇìèï.
33. àéø ãàÇøôÏè àéø ÷éùï [÷åùï] àéøò äòðè
34. àåï àéø àÇæÕ èÖÇòø äàÇìèï;
35. àéø áøÕëè áÖèï [áòèï] âàÈè
36. ôÏàÇø àéø âòæéðè [âòæåðè] àåï ôÏàÇø àéø ìÖáï [ìòáï].
37. ôÏåï àÇìòñ âåèñ àåï øàÇë÷Öè [øÖÇë÷Öè]
38. ÷òï òø àÖÇê àÇ ôÏåìò âòáï,
39. îéìéàÈðòï èàÇìòø, ãÖÇàÇîàÇðèï [áøéìéàÇðèï], äÖÇæòø âøÕñò, ùÖðò,
40. àÈáòø àÖï æàÇê àÇó [âòùøéáï: àåéó] ãòø Ôòìè ãàÈñ âéè àÖÇê âàÈè ðéùè îòø Ôé àÖðò,
41. àÇ ééÄãéùò îàÇîò, æé îàÇëè ãàÈê æéñ ãé âàÇðöò Ôòìè,
42. àÇ ééÄãéùò îàÇîò, àÕ Ôé áéèòø Ôòï æé ôÏòìè.
43. àéø ãàÇøôÏè ãàÈê ãàÇð÷òï âàÈè, ÔàÈñ àéø äàÈè àéø ðàÈê áÖÇ æéê.
44. àéø ÔÖñè ðéè Ôé èøÕòøé÷ ñ'Ôòøè
45. Ôòï æé âÖè àÇÔò÷ öå âéê.
46. àéï ÔàÇñòø àåï ôÏÖÇòø
47. ÔàÈìè æé âòìàÈôÏï ôÏàÇø àéø ÷éðã.
48. ðéùè äàÇìèï àéø èÖÇòø,
49. ãàÈñ àéæ âòÔéñ ãé âøòñèò æéðã;
50. àÕ, Ôé âìé÷ìòê àåï øÖÇê àéæ ãòø îòðèù
51. ÔàÈñ äàÈè àÇæàÇ ùÖðò îúÌðä âòùòð÷è ôÏéï [ôÏåï] âàÈè,
52. ðåø [ðàÈø] àÇï àÇìèéèù÷ò ééÄãéùò îàÇîò, îàÇîò îÖÇï!

 


d. Romanized text of "Mayn yidishe mame" (ed.)

Mayn yidishe mame  [transcription corrected 28.3.06 by Kultur-kongres]

 as sung by Sophie Tucker in 1928 in London

1.   vi ikh shtey du [do] un trakht
2.   kimt [kumt] mikh for mayn alte mame.
3.   nisht keyn opgepakte yenke
4.   un nisht keyn oysgeputste dame,
5.   nor a muter fun fertsaytn
6.   fin [fun] groys tsures [tsores] ayngeboygn,
7.   mit a kushere [koshere] yidishe harts
8.   un mit fil-farveynte oygn.
9.   in di zelbe kleyne rumkes [tsimern]
10. vi zi iz alt un gru [gro] gevorn
11. zitst zi un neyt un kholemt
12. fin [fun] di lang-fargangene yorn
13. ven di hoyz iz ful gevezn
14. mit dem klang fun kinder shtimes,
15. inem kitshn [kikh] hot geshmekt
16. der shabes kigl [kugl] mitn tsimes
17. ir megt mir gleybn az bay indz [undz]
18. hot nit gefelt der dales
19. ober dokh far indz [undz] di kinder
20. hot geklekt oyf ales
21. dos shtikl broyt fin moyl
22. fleg zi indz [undz] frayvilik gebn
23. un far ire kinder volt zi dokh avekgeleygt dem lebn.
24. aleyn geromt, aleyn geneyt, aleyn gevashn un gebiglt,
25. gearbet bay tog, gearbet bay nakht
26. un imer [shtendik] a kind geviglt,
27. un ot dos heyst a yidishe mame.
28. un vi gliklekh zayt ir mentshn
29. vos ir hot nokh ayere mames,
30. dem eybershtn darft ir bentshn.
31. un mit ir sheytl shemt zakh [zikh] nit
32. un halt ir nit farhaltn.
33. ir darft ir kishn ire hent
34. un ir azoy tayer haltn,
35. ir broykht beytn [betn] got
36. far ir gezint [gezunt] un far ir leybn [lebn].
37. fun ales guts un rakhkayt[raykhkeyt]
38. ken er aykh a fule gebn,
39. milyonen taler, dayamantn [brilyantn], hayzer groyse, sheyne,
40. ober eyn zakh af der velt dos git aykh got nisht mer vi eyne

[CHORUS]

41. a yidishe mame, zi makht dokh zis di gantse velt;
42. a yidishe mame, azoy vi biter ven zi felt.
43. ir darft dokh danken got, vos ir hot ir nokh bay zikh.
44. ir veyst nit vi troyerik s'vert
45. ven zi geyt avek tsu gikh.
46. in vaser un fayer
47. volt zi gelofn far ir kind.
48. nisht haltn ir tayer,
49. dos iz gevis di greste zind;
50. oy, vi gliklekh un raykh iz der mentsh
51. vos hot aza sheyne metone geshenkt fin [fun] got,
52. nur [nor] an altitshke yidishe mame, mame mayn!


e. "Mayn yidishe mame" in English by Sophie Tucker, 1928 – audio file  (Jan Hovers)

f.  Sophie Tucker's 1928 Dutch "Mayn yidishe mame" record illustrated (Jan Hovers)
<![if !supportLineBreakNewLine]>
<![endif]>

<![if !vml]>
<![endif]>
g.  Leo Fuld's Dutch record of "Mayn yidishe mame" illustrated (Jan Hovers)
<![if !supportLineBreakNewLine]>
<![endif]>
<![if !vml]>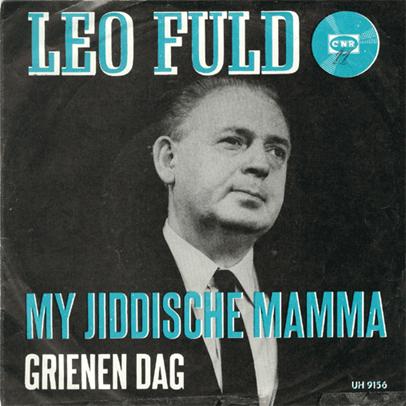 <![endif]>
6)--------------------------------------------------------
Date: 27 March 2006
Subject: Adina Bar-El's Grininke beymelekh – a further notice (ed.)
We repeat the announcement of this new book to include a useful telephone number accidentally omitted from TMR 10.02.
Adina Bar-El.  Beyn haEytsim haYerakrakim; Itoney yeladim beYidish uVeIvrit bePolin 1918-1939.  Jerusalem: Dov Sadan Institute [Hebrew University] / Zionist Library [World Zionist Organization], 2006, 519+XXX pp. [ISBN 965-440-055-3]. 1st 100 copies in Israel will cost 60 shekels postpaid [check to Yechiel Szeintuch (Makhon Dov Sadan), Dept. of Yiddish, Hebrew University, Mt. Scopus, Jerusalem, Israel. (Messages may be left 24 hours a day at (972) (2) 588-3527)]. Overseas orders to Adina Bar-El, Moshav Nir-Yisrael, Israel [Tel-Fax 972-8-6729354]. [English title: Under the Little Green Trees; Yiddish and Hebrew Children's Periodicals in Poland 1918-1939; Yiddish title: Grininke beymelekh)].
---------------------------------------------------------
End of The Mendele Review Vol. 10.03
Editor, Leonard Prager
Subscribers to Mendele (see below) automatically receive The Mendele Review.
Send "to subscribe" or change-of-status messages to:  listproc@lists.yale.edu
a. For a temporary stop: set mendele mail postpone
b. To resume delivery: set mendele mail ack
c. To subscribe: sub mendele first_name last_name
d. To unsubscribe kholile: unsub mendele
****Getting back issues****
The Mendele Review archives can be reached at: http://yiddish.haifa.ac.il/tmr/tmr.htm
Yiddish Theatre Forum archives can be reached at: http://yiddish.haifa.ac.il/tmr/ytf/ytf.htm

***