The Mendele Review: Yiddish Literature and Language
(A Companion to MENDELE)
Tenth Anniversary Issue

---------------------------------------------------------
Contents of Vol. 11.004 [Sequential No. 181]
Date: 13 April 2007
1) This issue of TMR (ed). 
2) Portraits of Yiddish Authors, Series 6 (David Mazower)
3) Mordkhe Schaechter ò"ä on Yiddish der kvetsh 'accent'
4) A Yiddish Moment in the American Novel (from Jean Hanff Korelitz, The Sabbathday River. New York: Farrar, Straus and Giroux, 1999, pp. 348-349)
5) Comments on the above passage (ed.)
6) Tsenerene in a mid-19th century Jerusalem Ashkenazi girls' school (ed.)
7) Periodicals Received: Jiddistik Mitteilungen Nr. 36 [November 2006];  Lebns-fragn 57: 651-2 [January-March 2007]
Click here to enter:  http://yiddish.haifa.ac.il/tmr/tmr11/tmr11004.htm
1)----------------------------------------------------------
Date: 13 April 2007
From: ed.
Subject:  This issue of TMR.
*Volume 1, No. 1 of The Mendele Review appeared on 13 April 1997. In this tenth-anniversary issue, we continue to develop the subject of Yiddish iconography. David Mazower presents the sixth of the TMR series of Portraits of Yiddish Authors.  *In one of his innumerable and invariably rich lexicographic notes, both explanatory and prescriptive, the late Dr. Mordkhe Schaechter berates English-speakers who regard certain quite functional Yiddish words like nominal kvetsh ('emphasis, accent'), shtup ('push'( and farblondzhet ('lost'') as inherently hilarious. The volume from which this short essay is taken (Laytish mame-loshn [Authentic Yiddish], 1986) is now quite scarce but a few copies may yet be ordered from its publisher, League for Yiddish, Inc. * The editor selects for analysis a striking passage in a 1999 American novel that beckons to be enjoyed by  readers who missed it first time round. The passage illuminates the Yiddish presence in modes of Jewish-American conversation in a striking manner.
2)----------------------------------------------------------
Date: 13 April 2007
From: David Mazower
Subject: Portraits of Yiddish Authors, Series 6
TMR Portraits of Yiddish Writers / Series 6
Yankl Adler (Jankel Adler), 1895 – 1949
<![if !vml]>
<![endif]>
Portrait of Avrom Sutskever (born 1913)
(present whereabouts unknown)
Adler was born into a large orthodox family in the mainly Hasidic community of Tuszyn, near Lodz in 1895.  He moved to Germany in 1913 and enjoyed considerable success until the Nazis came to power and forced him into exile in 1933. Acclaimed by fellow artists from an early age, Adler can be compared with Chagall in the way he fused the artistic language of modernism with a dazzling array of Jewish images and allusions (although stylistically the two men were far apart and Adler was too rigorous and self-critical an artist to resort to the recycled cliches of Chagall's late work).
Adler is often viewed within the exclusive context of the German art scene. Less well known is the fact that he had close and enduring friendships with many leading Yiddish writers and remained an influential figure in Yiddish cultural circles from his early days in Poland until his final years in Britain.
In Lodz  in the years immediately following the First World War, he helped to found the Yung Yidish literary and artistic circle which also included artists Marek Szwarc, Yitskhok Broyner (Vincent Brauner) and Henokh Bartshinski, the composer Henokh Kon, and the playwright Moyshe Broderzon.
Adler illustrated a number of books by Yiddish writers in the 1920s and 30s. Most of these are now exceptionally scarce. The list that follows is compiled from various sources and would benefit from careful checking against the original copies. Almost certainly incomplete, it includes:
   Moyshe Broderzon, Tkhiyes-hameysim: misterye, Lodz, 1920 (cover design by Adler)
   Moyshe Broderzon, Shvarts-shabes, Lodz, 1921 (author's portrait by Adler)
   Khayim Krul, Loybn, Lodz, 1920 (illustrations by Adler and others)
   Y M Nayman, Yon tev in der vokhn: lider, Warsaw, 1936 (author's portrait by Adler)
   Avrom Sutskever, Lider, Warsaw 1937 (author's portrait by Adler)
   Avrom Sutskever, Lider fun geto, New York, 1946 (author's portrait by Adler)
   Avrom Zak: Unter di fligl fun toyt, Warsaw, 1921 (twelve illustrations by Adler).
   Reyzl Zhikhlinski, Lider , Warsaw, 1936
In exile in London during the Second World War, Adler was closely involved with the Ohel cultural club, a mainly Yiddish-speaking group of intellectuals. Other active participants included the writers Leo Kenig, Itsik Manger ,Joseph Leftwich and Yozef Maitlis.
Adler's portrait of Sutskever, done in 1937, appears as the frontispiece to a small pamphlet of the poet's verse entitled  Lider fun geto, (Ghetto Poems). Written by Sutskever in the Vilna ghetto, they were buried in a cellar, retrieved once the German occupation was over, and sent by Sutskever from Moscow to be published in New York in an edition of 2000 copies in 1946.
Sutzkever 's links with Jewish art deserve closer attention than I can give them here. He has always been careful in his choice of illustrators and artistic collaborators and his portrait has been painted by many  of the leading modern Jewish artists (including Chagall, Kolnik and Reuven Rubin). Sutskever himself is an able amateur artist (my copy of his collected works, dedicated to his London friend Leslie Bar, includes a self-portrait caricature which is both witty and instantly recognisable).
Halina Olomucki (born 1921)
<![if !vml]>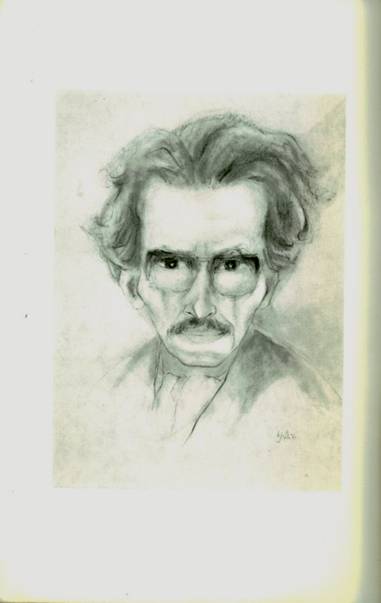 <![endif]>
Portrait of Ber Kutsher (1893 - 1978)
(present whereabouts unknown.)
Halina Olomucki was born in Poland in 1921. She was part of the last major generation of Polish-Jewish artists, a few of whom survived the Holocaust and returned to their homeland to pick up their careers there after the war. In addition to Olomucki, others who made the same journey include Rafal Khvoles, Devi Tuzsynski, Yitskhok Tselnikier, and Adam Muszka. Most left Poland for France or Israel from the 1950s (Olomucki and Tselnikier headed to Paris in 1957; Muszka arrived there some years later.) The particular pressures and predicament of this group of Jewish artist-survivors in Stalinist Poland have been little studied and would repay closer examination.
Olomucki held her first post-war exhibition in Warsaw in 1949. She studied at the Art Academy in Lodz before emmigrating to France and in 1972 she emigrated to Israel. Like many Polish-Jewish artists of her generation, Olomucki also produced illustrations for Yiddish books issued by the Yidish bukh publishing house in Warsaw under the editorship of writer Dovid Sfard.
Ber Kutsher, born in 1893, was a journalist and versatile writer of fiction and a regular contributor to the Warsaw Yiddish daily Haynt from 1916. Kutsher wrote novels, humorous sketches, plays, a biography of the popular Jewish strongman Zishe Breitbart, and an important volume of memoirs about Jewish culture in inter-war Warsaw. After surviving the Second World War in Soviet Russia, he returned to Poland in 1946, emigrated to Paris in 1948, and in 1976 moved to Israel.  Olomucki's portrait was published as the frontispiece to Kutsher's book of stories Di karuzele (Carousel), published in Paris in 1970.
Hazel Karr
<![if !vml]>
<![endif]>
Portrait of Isaac Bashevis Singer (Y. Bashevis) 1905 – 1991
(Collection of the artist, Paris )
There are many fine portraits of Bashevis, but Hazel Karr's almost life-size oil painting has a unique fascination. Karr is a professional artist whose work has been shown in numerous individual and group shows in France, her home country, as well as the United States. She is the daughter of Maurice Carr (born Morris Kreitman), a writer and translator, whose mother was Bashevis' sister, the Yiddish writer Esther Kreitman. Karr's portrait is thus a product of the complex dynamics of the extended Singer family, as well as a reaction to her various meetings with the elderly Bashevis. 
When I visited Karr some years ago in her apartment in Paris, she told me that she had met her famous relative "two or three times" in New York and Paris. She had been struck in particular by his "enormous eyes, like lakes" ("I was invited to some cocktail party where he was, and those eyes seemed to fill the whole room.").and "rather devilish" personality, and it is no coincidence that she has given Bashevis a pair of noticeably devilish ears.
Karr's impressive portrait has never been exhibited in public and TMR is grateful to Hazel Karr for giving us permission to reproduce it here for the first time.
3)----------------------------------------------------------
Date: 13 April 2007
From: ed.
Subject: Mordkhe Schaechter (ò"ä) on Yiddish der kvetsh 'accent'
Mordkhe Schaechter (ò"ä) on Yiddish der kvetsh 'accent'
<![if !vml]>
<![endif]>
<![if !vml]>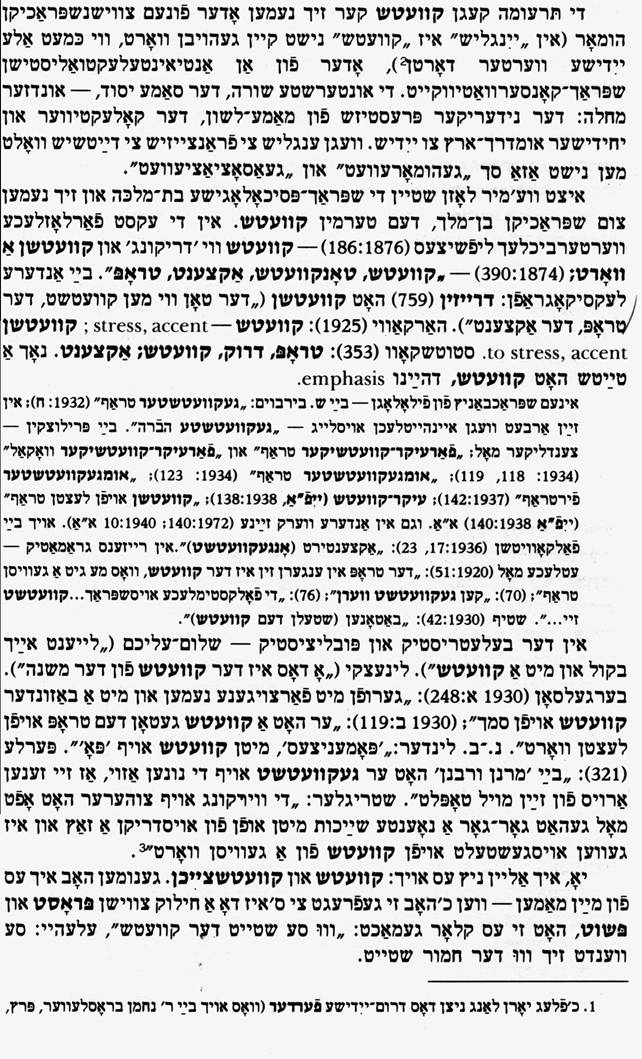 <![endif]>
<![if !vml]>

<![endif]>
We thank the Yiddish League for permission to publish the above essay.
4)----------------------------------------------------------
Date: 13 April 2007
From: ed.
Subject: A Yiddish Moment in the American Novel
"And she helped Naomi recover the dialect of sarcasm, a language that had atrophied from lack of use. It amazed her how pleasurable it was to speak this way. It made her remember nights in college, in crowded rooms lubricated by marihuana and noisy with students who couldn't quite pronounce the names of their great-grandparents' shtetl ('I'm pretty sure it was called Anatevka,' one pathetic girl had actually said) but thought it was somewhere in Russia, or where Lithuania used to be, or was it Latvia? She remembered / a guy one of their housemates had brought home their senior year, a political scientist with a beard, a mustache, and shag of hair that all seemed to merge over his head. 'There's a town named after my family back in Poland somewhere,' he told them over vegetable chili. 'I think it might have been the other way round,' Naomi had responded. Chattering their language of Men are meshugenneh and What, this surprises you? -- this was the dream of a common language. Naomi thought now, because it was dreamy, like speaking in tongues must be. Their pitch had taken generations of a conjoint heritage to perfect, and yet she had lost it willingly over this past decade, or at least without putting up a fight, and only now did she feel the cost of that, as she felt the intense gratification of hearing herself think and think aloud. One afternoon she had stood behind a woman at a pay phone in Peytonville, waiting for their turn so that Judith could call her office, and the woman, despite glances back at them, had gone on and on to her invisible interlocutor, about nothing -- television programs, a friend's bad taste in carpeting -- before at last turning to look at them asking, with deep insincerity, 'Oh, are you waiting for the telephone?' Judith and Naomi had looked at each other and rolled their eyes in unison, then spoke in a single caustic voice. 'No. We're just standing here.' "
[Jean Hanff Korelitz, The Sabbathday River. New York: Farrar, Straus and Giroux, 1999, pp. 348-349.]
5)----------------------------------------------------------
Date: 13 April 2007
From: ed.
Subject: Comments on the Korelitz passage above
The young man in the story thinks a town in Poland was named after his family and there were, of course, shtetlekh named after persons. Anatevka is the fictional town of Sholem-Aleykhem's Tevye der milkhiker, but the "pathetic girl" thought her family was from there. The author, Jean Hanff Korelitz, is here mocking those who are ignorant of their family history and lack the intellectual curiosity to learn about it. The author doubtless knew that her family name derived from that of the shtetl  Korelicze. (The place is movingly described in the pages translated into English by Jewish Gen. See the website http://www.jewishgen.org/Yizkor/Korelicze/kor002.html and the yisker-bukh КАРЭЛІЧЫ / Korelits: khayeha ve-khurbana shel Kehila yehudit [Korelitz: the destruction of a Jewish community] / Ed. M. Walzer-Fass. Tel Aviv: Korelichy Society in Israel and the USA, 1973. 61, 357 p., ill. [Hebrew, Yiddish and  English]).
But ignorance of one's origins is but a subtext in this passage, whose main subject is the loss and temporary, fitful recovery of an earlier language-style and mode of communication, an English suffused with Yiddish and preserving warmly-recalled Yiddish words and phrases. Meeting someone with similar background the heroine can relax into that aggressive conversational register she grew up with. She had sacrificed a core quality in her being in the interest of an all-too-expensive acculturation. Contemporary American novels flow over with Yiddishisms and references to Yiddish, but rarely embody the profound insight displayed in this key sentence:  
"Their pitch had taken generations of a conjoint heritage to perfect, and yet she had lost it willingly over this past decade, or at least without putting up a fight, and only now did she feel the cost of that, as she felt the intense gratification of hearing herself think and think aloud."
6)----------------------------------------------------------
Date: 13 April 2007
From: ed.
Subject: Tsenerene in a mid-19th century Jerusalem Ashkenazi girls' school
Mary Eliza Rogers. Domestic Life in Palestine, 1862, 1989
In this charming personal travelogue of mid-19th century Palestine, MER, sister of the British Consul at Damascus (Jerusalem and Haifa as well) prefaces her book as follows: "While residing in Palestine, I was placed in circumstances which gave me unusual facilities for observing the inner phases of Oriental Domestic Life."  She describes a visit to a girls' school in the Jewish Quarter of Jerusalem where Sefardi and Ashkenazi pupils occupy separate classrooms. After describing the Arabic-speaking Sefardi girls, she enters the Ashkenazi  preserve. The 'German' book she hears being read from is undoubtedly the perennially popular Old Yiddish classic Tsenerene. The writer repeats the widespread half-truth that this book was for women and children; actually it was also read by men who did not know Hebrew well.
"We went downstairs to the second German room, where most of the girls were between thirteen and fifteen years of age, and the rest younger. We heard two of the eldest read, with emphasis, several pages from the life of Moses – a book written expressly for the use of women and children. It is a paraphrase of the Bible history of Moses, in a curious harsh dialect, being a compound of Hebrew and German. It is printed in Hebrew characters, and embellished with quaint and curious woodcuts, in the style of the followers of Albert Duerer." [p.315]
7)----------------------------------------------------------
Date: 13 April 2007
From: ed.
Subject: Periodicals Received: Jiddistik Mitteilungen Nr. 36 [November 2006]; Lebns-fragn 57: 651-2 [January-March 2007]
Lebns-fragn; sotsialistishe khoydesh-shrift far politik, gezelshaft un kultur – to assign this veteran journal its full Yiddish title – has now entered the internet with an attractively designed website: http://www.lebnsfragn.com.
This Bundist but far from dogmatic journal is now in its 57th year of publication. We welcome this newcomer to Yiddish cyberspace and wish its energetic editor and key contributor Yitskhok Luden success in continuing for as many years as possible a political and cultural organ which is both Yiddish and Israeli. The current issue has poems by Rivke Basman, reportage from retired cardiologist and journalist Khariton Berman (from "Shvartstime," i.e. Bela Tserkov), a book review by Toronto's Simkhe Simkhovitsh  -- all in good Yiddish and printed in the accepted Yivo orthography. May this new enterprise flourish with the help of new young readers!
Jiddistik Mitteilungen; Jiddistik in Deutschsprachigen Laendern No. 36 (November 2006) is characteristically rich in scholarly aids. Karl-Heinz Best's lead essay on the quantitative dimension of Yiddish loanwords in German contains a two-page list of references and the url of his own website: http://wwwuser.gwdg.de/~kbest. Two significant figures in the world of Yiddish, Majer Bogdanski and Eli Katz, are eulogized in some depth by Heather Valencia and Erica Timm respectively. Very solid reviews of important books in the Yiddish field are an especially valuable feature of this issue: Elvira Groezinger on Estraikh Gennady In Harness. Yiddish Writers' Romance with Communism (New York, 2005); Stephan Krogh on Erika Timm's Historische jiddische Semantik (Tuebingen, 2005), Jutta Schumacher on Chava Turnianski's majestic edition and translation of Glikl Hameln's Memoirs (Jerusalem 2006). The report of academic events in Germany in the Yiddish sphere and of new books and particularly of new articles fills out this quite meaty issue.

-----------------------------------------------------------
End of The Mendele Review Vol. 11.004
Editor, Leonard Prager
Subscribers to Mendele (see below) automatically receive The Mendele Review.
Send "to subscribe" or change-of-status messages to:  listproc@lists.yale.edu
        a. For a temporary stop: set mendele mail postpone
        b. To resume delivery: set mendele mail ack
        c. To subscribe: sub mendele first_name last_name
        d. To unsubscribe kholile: unsub mendele
****Getting back issues****
The Mendele Review archives can be reached at:  http://yiddish.haifa.ac.il/tmr/tmr.htm
Yiddish Theatre Forum archives can be reached at: http://yiddish.haifa.ac.il/tmr/ytf/ytf.htm
Mendele on the web: http://shakti.trincoll.edu/~mendele/index.utf-8.htm