The Mendele Review: Yiddish Literature and Language
(A Companion to MENDELE)
---------------------------------------------------------
Contents of Vol. 12.019 [Sequential No. 210]
Date: 23 October 2008
1) This issue of The Mendele Review (ed.)
2) "The Jerusalem Conference: A Century of Yiddish 1908-2008" (Carrie Friedman-Cohen)
3) "Di mayse aleyn" and "Zhid davay roshi" ['Jew, Give Money']  (Mendele Moykher-Sforim)
4) Portrait of Avrom Lyesin [Avraham Valt-Lyesin]
5) Title page of vol.1 of  Lyesin's three-volume Lider un poemen (1938)
6) "Der kremer" [Lider un poemen vol.1, pp. 225-228] (Avrom Lyesin )
7) Drawing of "Der kremer" [opposite vol. 1, p. 224] (Marc Chagall)
8) On Chagall's drawing of "Der kremer" (ed.)
9) A Note on Chagall's Yiddish Book and Journal Illustrations (David Mazower)

1) ---------------------------------------------------
Date: 23 October 2008
From: ed.
Subject: This issue of TMR
*** The principal matter in this issue is parts 2 and 3 of Abramovitsh' Dos vintshfingerl (Warsaw, 1866). These two parts are reprinted from the bilingual edition edited by Shalom Luria (Haifa: Univ. of Haifa Press, 1994). A highly readable, imaginatively idiomatic English translation of the fully developed later version (Warsaw, 1911, 1913) is available in the translation by Michael Wex (The Wishing-Ring: A Novel by Mendele Moykher-Sforim. Syracuse, N.Y.: Syracuse University Press, 2003, 280 pages. Excerpts from this translation may be read using Google Book Search. Click here for a "preview" of the novel.   *** The song "Der kremer" was presented in a recent issue of TMR in three renditions and its source in a poem by Avrom Lyesin was identified. We now give the entire Lyesin poem, a Chagall drawing that illustrates it, and commentary on both poem and drawing.  *** The Israeli Minister of Science, Culture and Sport has appointed Dr. Rachel Rojanski of the University of Haifa, Department of Jewish History, as Chair of the National Authority of Yiddish in Israel for the coming three years. We wish Dr. Rojanski success and satisfaction in the challenging position for which she has been chosen, one towards which Yiddish-lovers in Israel look for leadership and initiative.
2) ---------------------------------------------------
Date: 23 October 2008
From: Carrie Friedman-Cohen for the Organizing Committee
Subject: "The Jerusalem Conference: A Century of Yiddish 1908-2008"
<![if !vml]>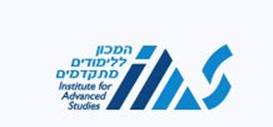 <![endif]>           <![if !vml]>

<![endif]>
The organizing committee of the Century of Yiddish conference planned for Autumn 2009 in Jerusalem is pleased to greet Elie Wiesel on the occasion of his 80th birthday.  Boston University will appropriately honor him this month with an international conference dedicated to his life and writings. One of the topics to be dealt with in Jerusalem will be the distinguished author's Yiddish works written after the Second World War.
Since first announcing the Jerusalem Conference,  scholars from many countries have offered to participate. One can identify more than two hundred Yiddish scholars worldwide. Unfortunately, we cannot accept an unlimited number of papers. Thus, discomfiting though it be, it needs to be made clear from this early planning stage that there will be no call for papers. However, this historic event should prove exciting to all who attend. The Mendele Review will continue to publish exact dates and other details.
3) ---------------------------------------------------
Date: 23 October 2008
From: ed.
Subject: )"Di mayse aleyn" and "Zhid davay roshi" ['Jew, Give Money']
(left click on any image to enlarge)
<![if !vml]>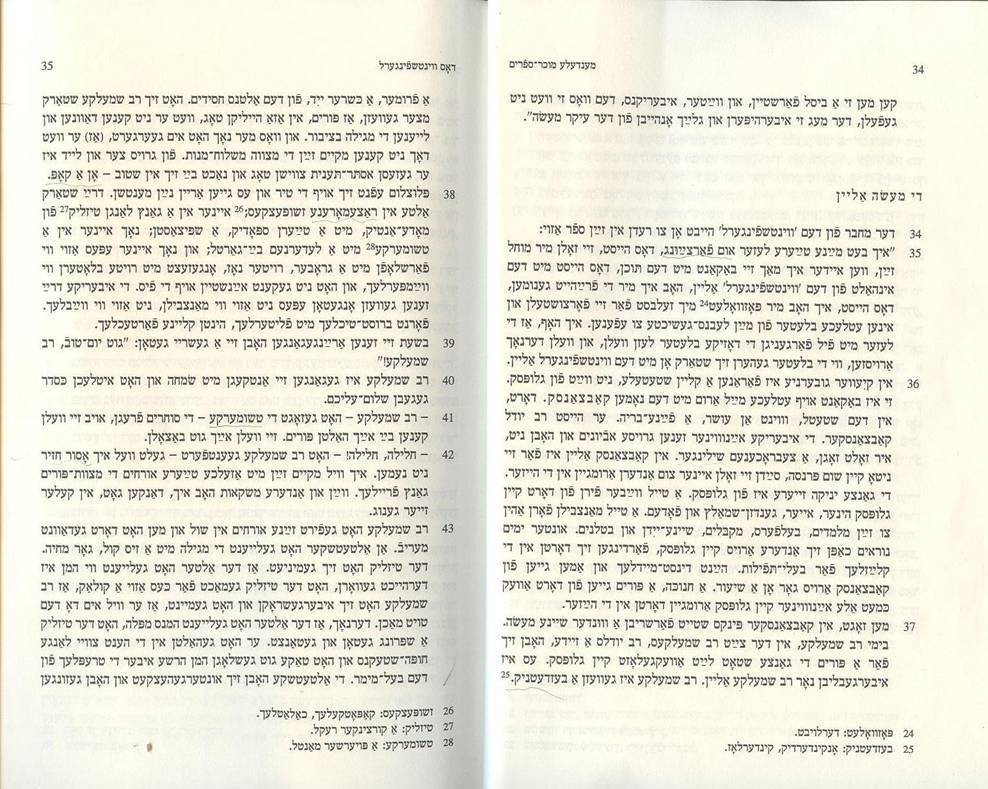 <![endif]>
<![if !vml]>
<![endif]>
<![if !vml]>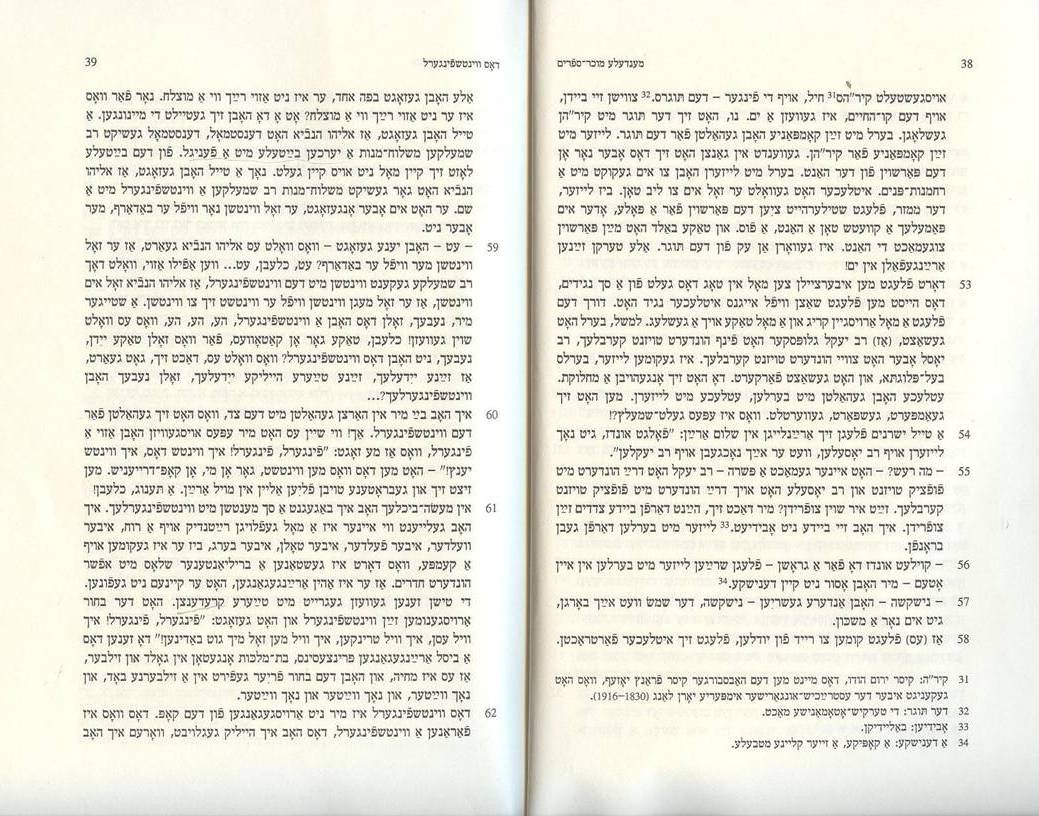 <![endif]>
<![if !vml]>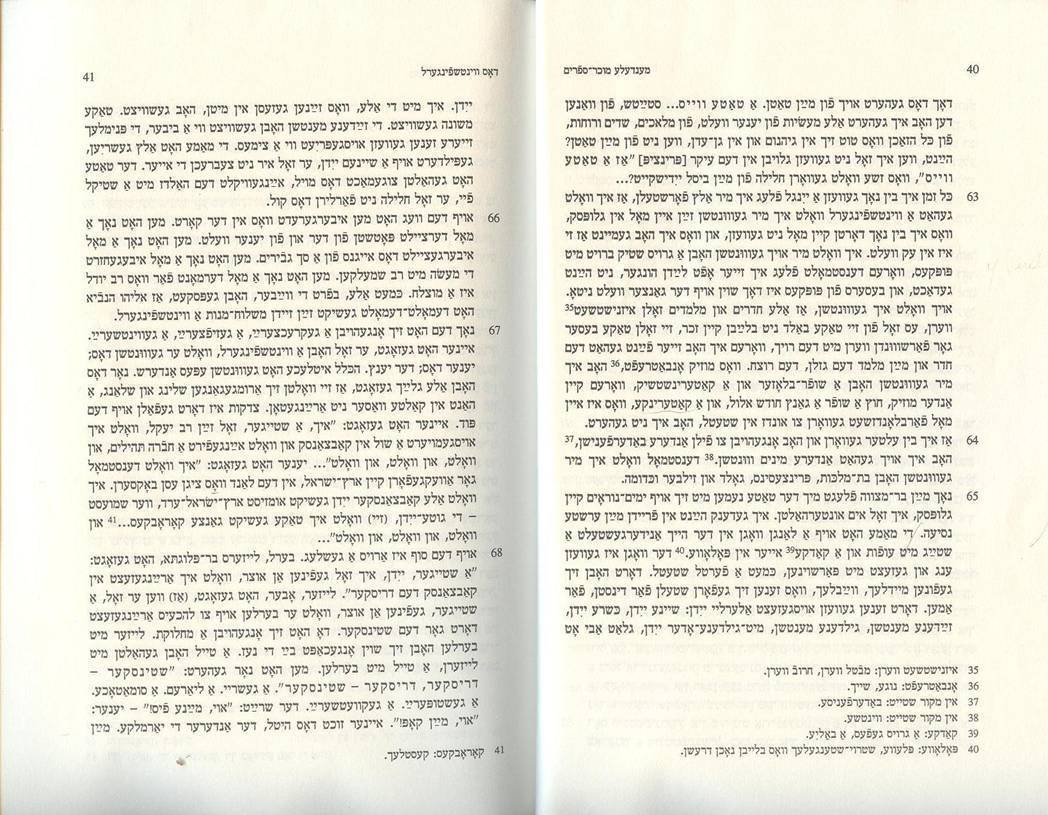 <![endif]>
<![if !vml]>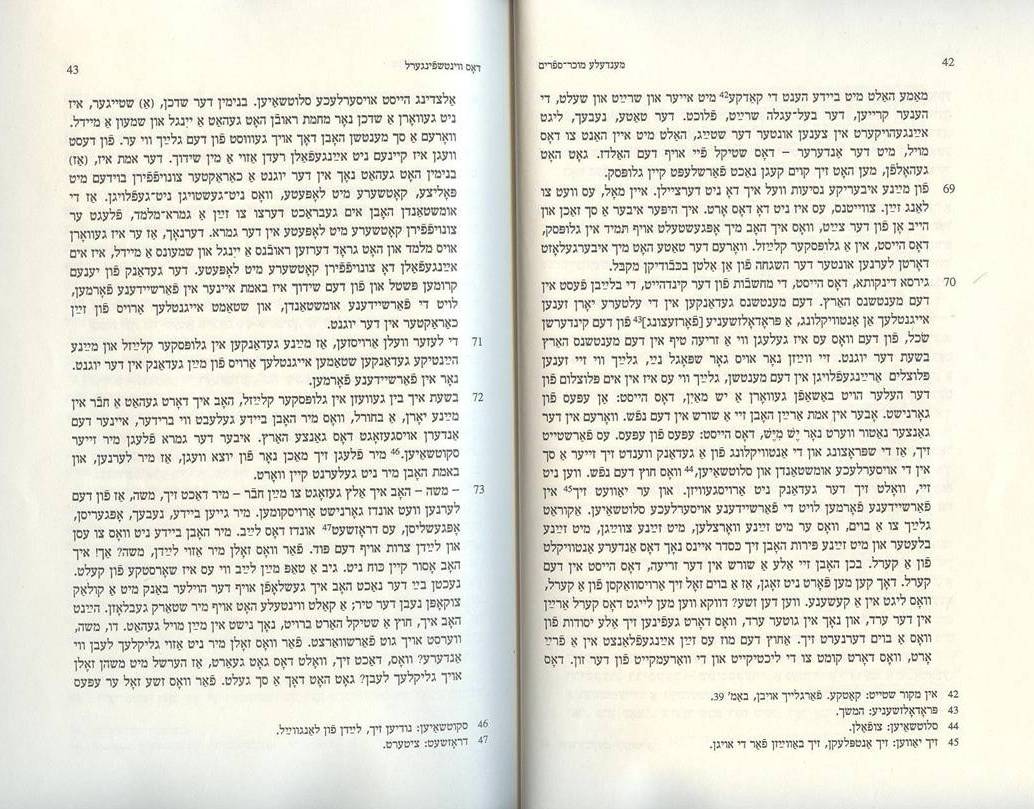 <![endif]>
<![if !vml]>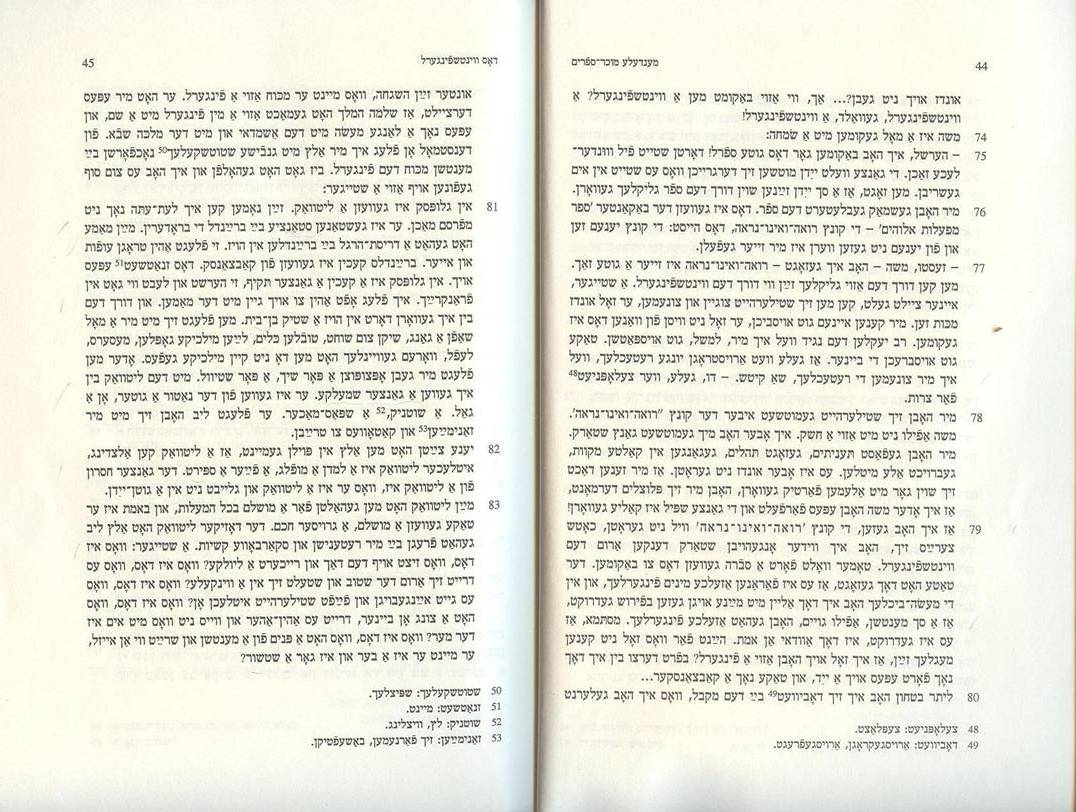 <![endif]>
<![if !vml]>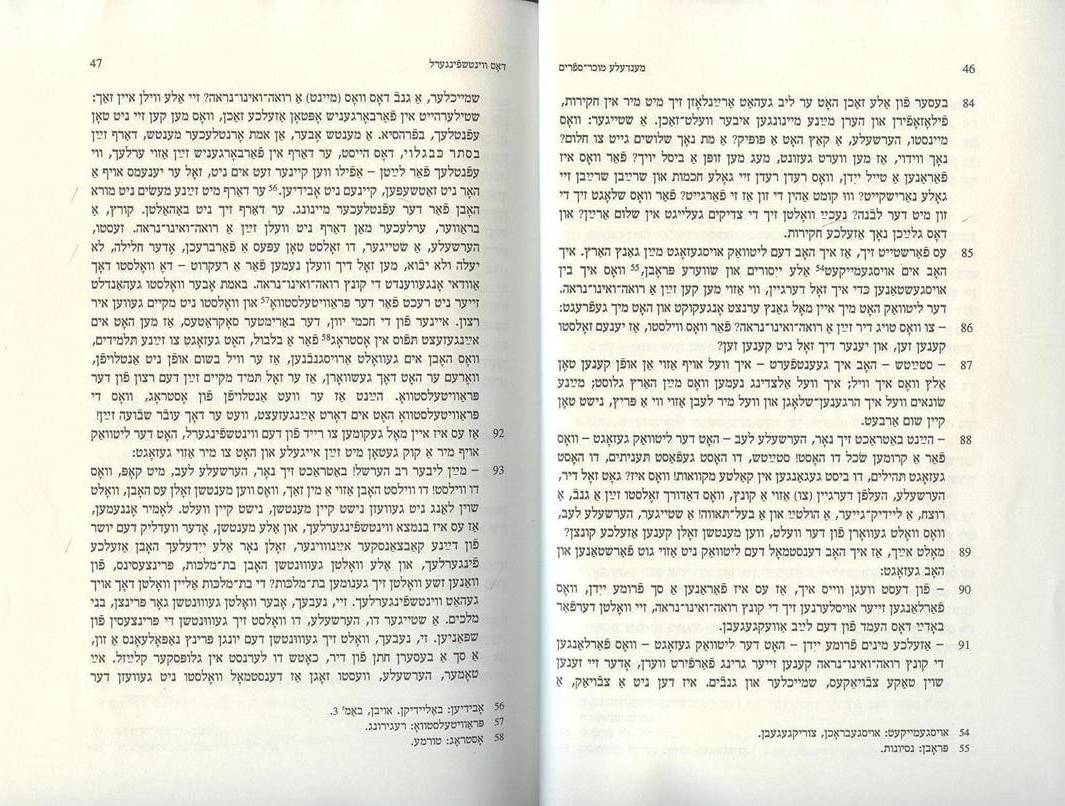 <![endif]>
<![if !vml]>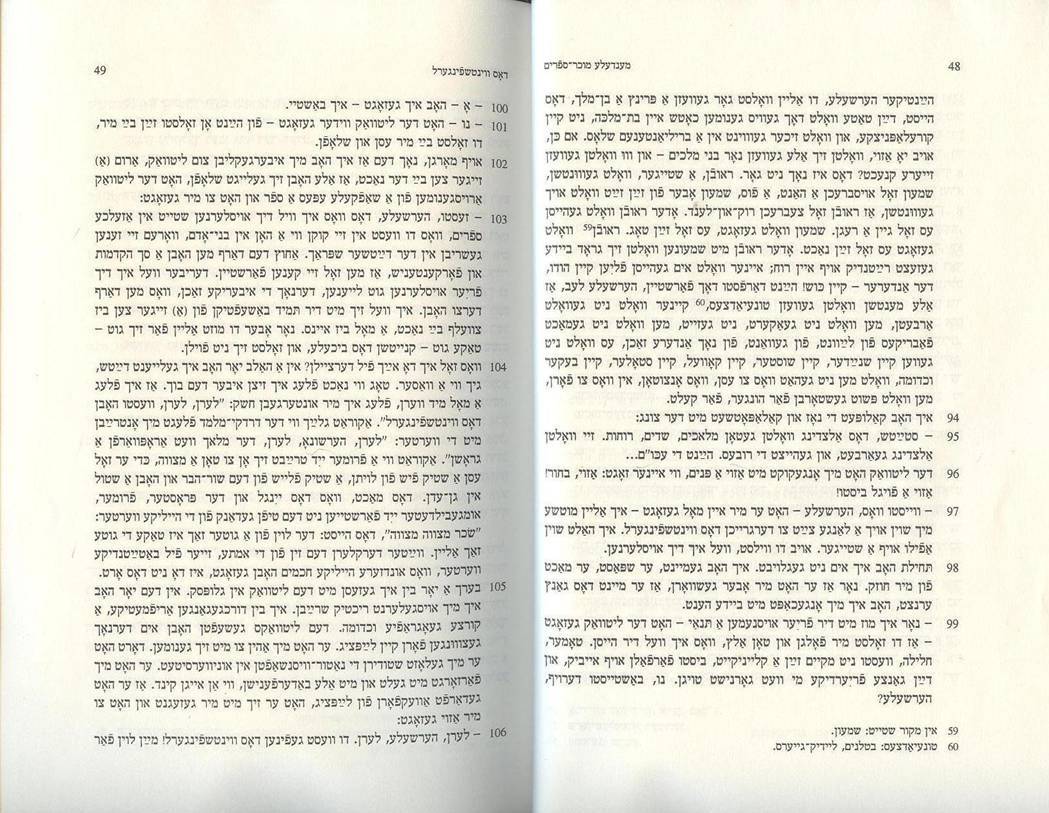 <![endif]>
<![if !vml]>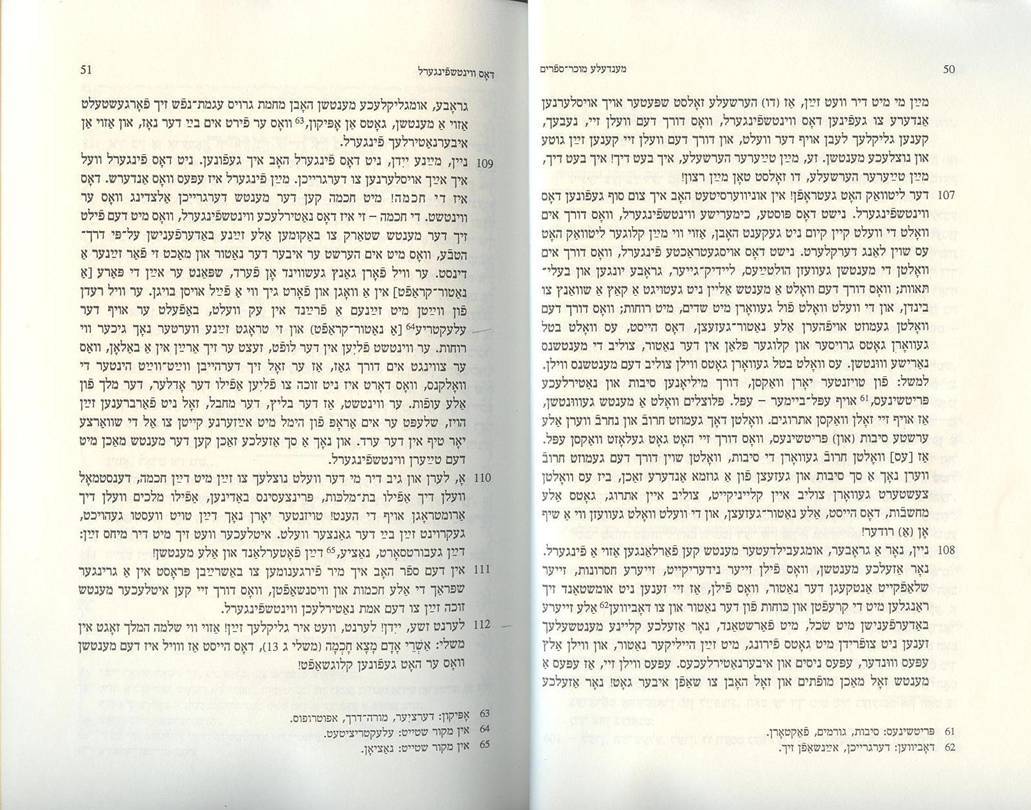 <![endif]>
<![if !supportLineBreakNewLine]>
<![endif]>
4) ---------------------------------------------------
Date: 23 October 2008
From: ed.
Subject: Portrait of Avrom Lyesin [Avraham Valt-Lyesin]
<![if !vml]>
<![endif]>
5) ---------------------------------------------------
Date: 23 October 2008
From: ed.
Subject: Title page of vol.1 of  Lyesin's three-volume Lider un poemen (1938)
<![if !vml]>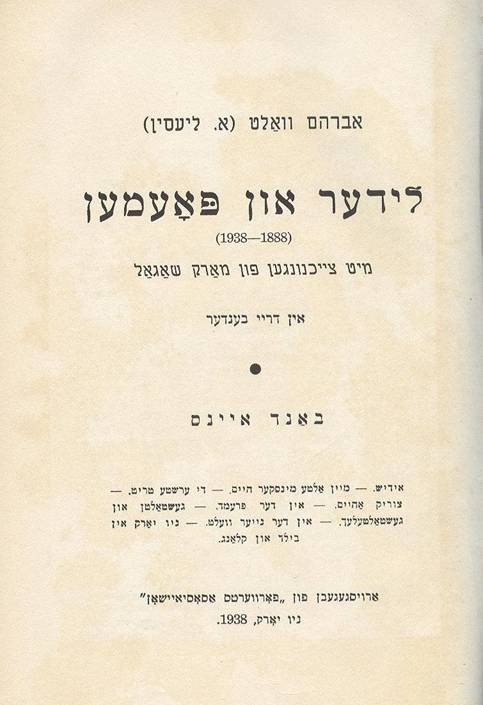 <![endif]>
6) ---------------------------------------------------
Date: 23 October  2008
From: ed.
Subject: "Der kremer" ('The Storekeeper')
(left click on any image to enlarge)
<![if !vml]>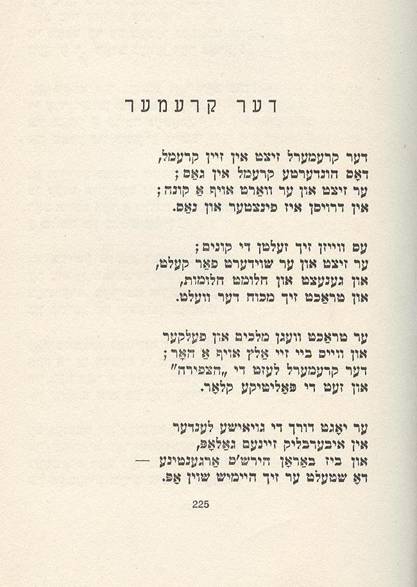 <![endif]>
<![if !vml]>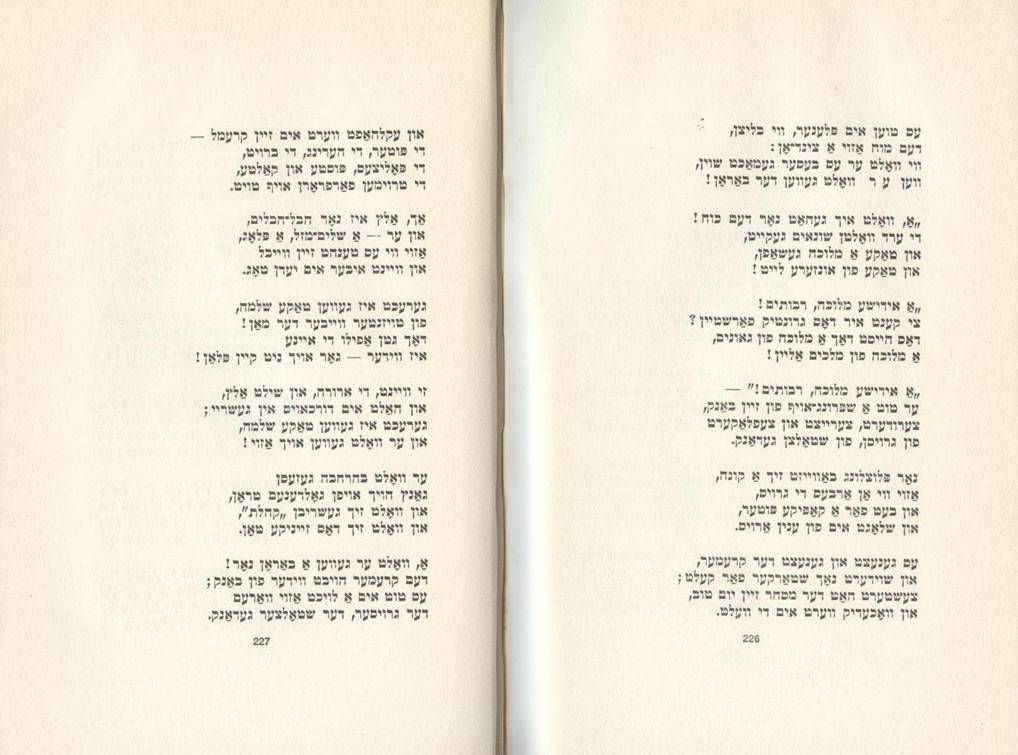 <![endif]>
<![if !vml]>
<![endif]>
7)---------------------------
Date: 23 October 2008
From: ed.
Subject: Chagall's drawing of "Der kremer" [opposite vol. 1, p. 224]
<![if !vml]>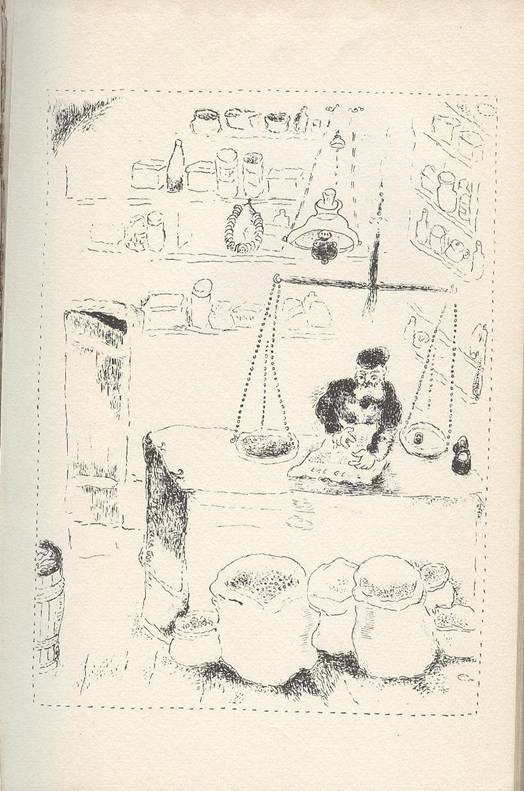 <![endif]>
8) ------------------------------------
Date: 23 October 2008
From: ed. 
Subject: On Chagall's drawing of "Der kremer"
Chagall illustrated the complete poems of Avrom Lyesin with numerous lightly drawn yet marvelously suggestive pen-and-ink sketches. His graphic interpretation of Lyesin's "Der kremer" ('The Storekeeper') is a sympathetic portrait of a small merchant who struggles to transcend his depressing material condition.
In his 25-stanza narrative poem, the poet both celebrates and playfully mocks his protagonist, the storekeeper whom Chagall places at a table reading a modern newspaper -- though fitted with beard and skullcap (appropriate even for the maskil  ['enlightener, modernist'] he probably is). Chagall situates the little store's single occupant between two pans of a large scale, the poem's principal significant object and an easily read symbol of justice.
Large open sacks of bulk foods such as beans, seeds, salt, flour sit heavily at the bottom of the drawing – no one is buying this merchandise. The storekeeper is surrounded by assorted goods that enclose him and in effect imprison him. He must sell to live, but while waiting for the customers who do not come he is somewhat liberated by his free-roaming imagination. He dreams of Jewish empowerment, of Jewish sovereignty.    
The storekeeper reads a newspaper beneath a hanging lamp that serves as an upper force that balances the weighted bottom.
The poet tells us that his storekeeper understands politics from his reading HaTsefira ('The Clarion', 1862-1932),  http://jnul.huji.ac.il/dl/newspapers/hazefirah/html/hazefirah.htm, the first Hebrew periodical in Poland and one which introduced surveys of world events. An interesting though possibly irrelevant point is that the caption of the drawn newspaper can be made out to spell Der fr[ayn]d, the most popular Yiddish paper in Warsaw. This diversion must not allow us to minimize the poet's explicit "Der kremerl lezt di HaTsefira / Un zet di politike klor." ('The little storekeeper reads 'The Clarion' and fully understands politics').
There are a hundred other small shops in the storekeeper's street – this is an urban scene, not a rural one. The small-scale Jewish merchants in Poland formed large segments that were drawn to the Zionist ideal. In many respects Lyesin's and Chagall's storekeeper represents a typical diasporan Jew who emigrated from Eastern Europe to America (it was largely in the New World that Jewish petty traders and middlemen were proletarianized). The fact that the kremerl – the poet prefers the diminutive form which helps create a familiar figure – reads a Hebrew newspaper suggests that to some degree he is a maskil. Studying Talmud and other rabbinic books in the besmedresh find their secular equivalent in reading a modern paper. Chagall and Lyesin picture the attempt to balance kemekh ('livelihood') with toyre ('learning').
The storekeeper dreams of Jewish sovereignty and fantasizes on what he could accomplish in that direction had he the means. The Jews, after all, are geniuses and can build a brilliant homeland. Modulating this nationalist vision the poet gives us a final scene in which the mass of storekeepers watch our hero receive a child customer (who buys a penny's worth of merchandise) burn with hatred and jealousy at what appears to them a real "sale."
A comic touch in the poem missing in the drawing introduces a shrewish wife who berates her unsuccessful husband daily, but whom he is not up to divorcing. Perhaps, he thinks, he deserves her taunting. The storekeeper is reminded of Solomon whose wisdom in having a thousand wives he praises – but not for erotic reasons. Having a company of wives would free him of the nagging of one and leave him free to compose "Koheles" ('Ecclesiastes') – not the composition for this dreamer. We see his deeper self when he awakes from his luminous vision of a Jewish homeland, a vision his dreary life cannot extinguish.
9)--------------------------------------
Date: 23 Octobr 2008
From: David Mazower
Subject: A Note on Chagall's Yiddish Book and Journal Illustrations
Chagall scholarship has become something of an artistic industry in recent years, but comparatively little attention has been paid to his illustrations for Yiddish books and journals. Our editor's fine note about a single drawing from the 1930s reminds us that much of Chagall's production in this genre spanning some seven decades remains in the shadows. This brief note is intended to serve as an introduction to this diverse body of work and a pointer to some of the key publications.
Chagall made his debut as an illustrator of avant-garde Yiddish books and periodicals in Russia and Germany, starting with his illustrations for Der Nister's A mayse mit a hon. Dos tsigele ('A Story about a Rooster',' The Little Kid') printed in Petrograd (and published by Kletskin in Vilna) in 1917.  Another key work from this period is Dovid Hofshteyn's Troyer ('Mourning') published in Kiev in 1922 [facsimile in 500 numbered copies (Jerusalem 1982)]. His work also features prominently in some of the key modernist journals of the same period, eg Shtrom ('Stream'), and the two issues of the literary revue Khaliastre, ('Gang') published in Warsaw (1922) and Paris (1924). Much of this work has been discussed and researched by scholars such as Benjamin Harshav, Hillel Kazovsky, Seth Wolitz and Chone Shmeruk.
In the following decades, Chagall produced illustrations for a relatively small number of Yiddish books, probably numbering no more than thirty volumes. Some of these featured a single hastily-drawn image for a cover or frontispiece, in part presumably because the author or publisher felt that Chagall's name would add prestige to their publication. Others were clearly  more personal projects, such as the illustration for the memorial book about his home town of Vitebsk -- Vitebsk yisker bukh -- published in Israel in 1957.
But Chagall reserved his best work in Yiddish book graphics post-1925 for a small number of writers, many of them close friends. In addition to Lyesin, they included Yoysef (Joseph) Opatoshu, Avrom Sutskever and  Daniel Tsharni. One other name deserves special mention -- his wife Bella. Shortly after her tragic death in 1944, Chagall published Brenendike likht ('Burning Lights'), her fine memoir of her childhood, featuring some of his best illustrations.
A comprehensive library of Chagall's illustrated books would have to include the following exceptional examples: the three-volume set of Lyesin's poems, published by the Forverts Association in 1938; Sutskever's Di fidlroyz / lider un poemes  'The Fiddle Rose: Poems' , (Tel-Aviv, 1974) and the bibliophile edition of Opatoshu's A tog in regensburg ('A Day in Regensburg') (New York, 1933).
This last publication is one of the rarest of all Chagall illustrated volumes, and not just in Yiddish. It was printed on thick art paper in an edition of one hundred numbered copies, with an exquisite frontispiece lithograph by Chagall.  The publisher's name is given as E. Malino (is anything more known about him?).  Such limited editions in a fine art format are rare exceptions in the history of Yiddish book publishing and have become almost impossible to find today.  
-------------------------------------------------------------------------
End of The Mendele Review  Issue 12.019
Editor,  Leonard Prager
Editorial Associate, Robert Goldenberg
Subscribers to Mendele (see below) automatically receive The Mendele Review.
You may subscribe to Mendele, or, kholile, unsubscribe, by visiting the Mendele Mailing List
**** Getting back issues ****
The Mendele Review archives can be reached at: http://yiddish.haifa.ac.il/tmr/tmr.htm
Yiddish Theatre Forum archives can be reached at: http://yiddish.haifa.ac.il/tmr/ytf/ytf.htm
Mendele on the web: http://shakti.trincoll.edu/~mendele/index.utf-8.htm
***