The Mendele Review: Yiddish Literature and Language
(A Companion to MENDELE)
---------------------------------------------------------
Contents of Vol. 11.011 [Sequential No. 188]
Date: 28 October 2007
Katzetnik Issue – Part One
1) This issue of TMR (ed).
2) Katzetnik -- Between Literature and History (Yechiel Szeintuch)
3) Arkadi Gendler's "Mayn shtetele Soroke" (lyrics & performance)
4) 2 New Songs by Kishenev Folklorist and Composer Arkadi Gendler (a. Yiddish / b. Romanized / c. Score)
5) Important announcement in Jerusalem Post of  16 October 2007
6) Book Received: Hebrew Poems of His Youth by Eliahu Sela-Saldinger 
1)---------------------------------------------------
Date: 28 October 2007
From: ed.
Subject: This issue of TMR
*** In this 2-part essay (the second part to appear in the next issue of TMR) written especially for the TMR by Katzetnik scholar Professor Yechiel Szeintuch of the Yiddish Department of the Hebrew University, the author attempts to give his English-language audience a picture of his extensive Katzetnik project and of the two volumes which are its most tangible end-products. The two Hebrew volumes include a general study of the famed -– but also much misunderstood -- Holocaust novelist Katzetnik as an introduction to an academic edition with a Hebrew-Yiddish glossary  of his first and in many ways central creation, the novel Salamandra. Written in Yiddish, Salamandra was published in many languages yet never in the original Yiddish. These introductory essays deepen our understanding of a writer who is sometimes presented in a sordid light.   *** David Mazower met and heard the folklorist and composer Arkadi Gendler in Vilna this summer as did Robert Goldenberg at Klezkamp. The Gendler songs are not given here as an effort to balance the awful sobriety the Katzetnik theme demands, but they are a happy sign – deep nostalgia and sentimentality notwithstanding – in a desired direction. Arkadi Gendler sings his own "Mayn shtetele Soroke."
2)----------------------------------------
Date: 28 October 2007
From: Yechiel Szeintuch
Subject: Katzetnik -- Between Literature and History
Katzetnik the Yiddish and Hebrew Writer:  Between Literature and History
Eight Questions and Their Partial Answers
Yechiel Fajner (16.05.1909 – 17.07.2001), also known as Karl Tsetinski or Yechiel De-Nur, is a famous known yet somehow unknown Holocaust novelist, whose books have been translated into over a score of languages. He remains an enigma to those who have read his books, whether in Yiddish, Hebrew or in translation. In the English-speaking world and in Israel in the last few years much interest has been shown in his literary legacy. The enigma of Katzetnik poses a series of questions:
<![if !supportLists]>1. <![endif]>Who was he before the Second World War?
<![if !supportLists]>2. <![endif]>How is his Yiddish-Hebrew bilingualism expressed?
<![if !supportLists]>3. <![endif]>What is the meaning of the four letters E.d'M.A. (alef, daled'mem, ayin ) which appear on an empty page directly following the title page in all of his books?
<![if !supportLists]>4. <![endif]>What was Katzetnik's personal connection to the Eichmann trial?
<![if !supportLists]>5. <![endif]>Why did Yechiel Fajner call himself Katzetnik following the Second World War?
<![if !supportLists]>6. <![endif]>How did Katzetnik come to be treated with LSD?
<![if !supportLists]>7. <![endif]>Why did the salamander become a central symbol in Katzetnik's writings?
<![if !supportLists]>8. <![endif]>Which books did Katzetnik originally write in Yiddish or in Hebrew?
Hundreds of articles about Katzetnik's books have been written since 1946, mainly reviews.  However, immediately following his death in 2001, systematic works of research began to appear. In 2003 a Hebrew volume of my conversations with Yechiel De-Nur was published. It concerned Katzetnik's life and works and included unknown documents and a multilingual index of the names mentioned in the book.(1) In 2004 a comprehensive essay on Katzetnik, based on selected research papers, was published. (2) In the same year an extensive encyclopedic entry about Katzetnik – focusing on the English translation of his books – appeared. (3) Three significant academic publications related to Katzetnik's works appeared the following year, in 2005. One dealt with the salamander myth as a symbol in Katzetnik's writings(4), another was a critical investigation by literary critics of Katzetnik's achievements as a writer (5). The third work analyzed Yechiel Fajner's role as a writer in orthodox Yiddish literary circles in interwar Poland (6).
Within the framework of the Dov Sadan Institute at the Hebrew University in Jerusalem, it is planned to publish the original Yiddish version of Katzetnik's first novel Salamandra – written in Naples in August 1945 by the refugee Karl Tsetinski. This work, the first holocaust novel following the Second World War, presented a literary-historical synoptic testimony in twelve chapters describing the various phases the Jews went through until their deaths under German rule in the ghettos and the labor and death camps such as Auschwitz and its sub-camp Gunthergrube. The works of research cited here give the following partial answers to our eight basic questions: 
1. Yechiel Fajner, born in Sosnowiec, from the age of four studied the Torah with well known melamdim and rabbis until he arrived as a student at the "Sages of Lublin" Yeshiva (Yeshivat Hokhmey Lublin) headed by Rabbi Meir Shapiro. He apparently studied here for a short period of time. Yechiel Fajner was the representative of "Tse'irey Agudat Yisrael" and published articles in the orthodox Yiddish press. Also a poet, he was a friend of the religious poets Elimelekh Shtayer and Shmuel Nadler in the beginning of the 1930s. In 1928 at about the age of 19, he was orphaned. At the beginning of the 1930s he left the yeshiva and became a teacher at the orthodox Beys Yankev School for girls in Lodz. As an expert in spoken Hebrew, Yechiel Fajner was invited by the poet and educator Yitschak Katzenelson to teach at Katzenelson's gymnasium in Lodz. After leaving the orthodox world, he attended the faculty of medicine at the University of Warsaw and, shortly before the outbreak of the Second World War, married Sonia Goldblum, the daughter of a shoe factory owner in Sosnowiec. At this time, too, he befriended the Yiddish writer and humorist Yoysef Tunkl (Der Tunkeler).
2. Yechiel Fajner's (Katzetnik's) Yiddish-Hebrew bilingualism was from the start an organic facet of his writings. In the Yiddish orthodox press he fought for Hebrew, and wrote in Hebrew for the Warsaw monthly Digleynu which appeared between the years 1920-1930. Following the Second World War, Katzetnik at first composed most of his books in Yiddish, and then translated them into Hebrew by himself. The original Yiddish manuscripts of two of his most important books (Salamandra and Piepels) were never published. Katzetnik's intended audience included not only the Yiddish and Hebrew reader, but the readers of many other languages as well. This intention finds support in the oath he took upon liberation: following the war he would not until his final day cease to cry out about the Holocaust. This decision is stated sharply in his Yiddish poem of vengeance and retribution "Salamandra", the first poem he wrote as a refugee. He composed it apparently in July 1945.  (The Yiddish original and an English translation appear in Partial Answers – see footnote no. 4; the Yiddish original, a Hebrew translation and a close analysis of the poem appear in my forthcoming book – see footnote no. 7).
3. For more than fifty years Yechiel De-Nur was asked about the significance of the E.d'M.A. code in his books, but he remained silent. The answer to this question, one that justifies his silence, is long and complicated. A detailed analysis concerning the way in which the code is deciphered is found in my book.(6)  A brief answer to the question is that the four Hebrew letters are the abbreviated initials of the ancient Talmudic magical formula "Eloha d'Me'ir Aneyni" (God of Rabbi Meir Answer me – Avoda Zara, 18b). This formula, which is forbidden to be voiced, enables one to free themself from life-threatening danger. Katzetnik at least twice screamed it mutely while on the brink of imminent death:  during the "Mengele selection" in Auschwitz and before the gates of the gas chambers building in Auschwitz.
4. Concerning his connection to the Eichmann trial, Katzetnik was chosen -- against his will -- as a central witness for the prosecution to bear testimony on Auschwitz, where he was incarcerated for a total of two years. He was also considered a vital witness against Adolf Eichmann, since out of all 110 witnesses, he was one of the very few who had met Eichmann personally, and the only one who had seen him twice in one day.
5. In 1931 Yechiel Fajner published a volume of Yiddish poetry in Warsaw entitled Tsvey un Tsvantsik - Lider (Twenty Two - Poems). During the Second World War he lived in Nazi occupied Sosnowiec, and in the Sosnowiec ghetto. He was deported to Auschwitz, arriving there on August 5, 1943. In the beginning of 1944 he was sent to Auschwitz' satellite labor camp Gunthergrube, where among other work assignments he was forced to labor in a coal mine. After his liberation he wandered across Europe as part of the "Bricha" movement under his newly adopted name Karl Tsetinski. He took the name Karl Tsetinski when he began his journey towards Palestine together with other groups of Polish-Jewish survivors such as Abba Kovner, Tsivia Lubetkin and some of his fellow Auschwitz survivors who participated in the Gunthergrube underground movement.  He eventually reached Haifa on November 14, 1945. He changed his name once again, this time to Yechiel De-Nur, when he married Nina Asherman in Israel on February 26, 1948.
"Katzetnik" became his pen name after he totally relinquished his birth name Yechiel Fajner. He completely severed himself from his birth name and forbade all acquaintances from the prewar period to mention it or any other facts concerning his prewar biography, including the volume of his poetry, which he physically destroyed in a number of libraries in Israel and abroad.
6. In 1976, Katzetnik let himself be treated with LSD in the sanatorium of Prof. Jan Bastians in Leiden, Holland. He apparently hoped that this therapeutic method would free him of the nightmares he experienced for thirty years.  Approximately ten years later he published his last book Tsofen Ed'MA (in English Shiviti) in which he describes and documents his LSD experiences. Under the drug's influence he had relived his Holocaust torments; ten years after the LSD treatments he vividly records the most traumatic of his life experiences, recapturing colorful and dynamic images that had flashed before his mind.
7. In world literature beginning with Greek and Roman culture, as well as in the Talmud and Hebrew literature throughout the ages, a legend exists about the salamander that lives in fire and is not consumed. Scientists of natural history who deal with herpetology describe the so-called Fire Salamander which lives in the depths of the earth in a moist environment, and is originally an amphibian creature. Fire and water are accompanying motifs of the salamander with which Katzetnik identifies deeply in his work to the extent that he speaks of himself as if he were a salamander. Furthermore, he composed a poem and novel both bearing the name "Salamander" (Salamandra), and even gave the entire series of his six books about his agonizing Holocaust experiences the name "Salamandra". I deal with this at length in my book.
8. According to his own words, Katzetnik wrote his books first and foremost in "leshon hakdoshim" – the language of the martyrs, i.e. Yiddish, and only later did he translate them into "leshon hakodesh" – the language of holiness, i.e. Hebrew. As it seems (prior to a systematic investigation which should be conducted), his novels Salamandra (translated into English as: Sunrise Over Hell), Dos Hoyz fun di Lialkes (House of Dolls), Piepels (Pepel; Atrocity), and his poetic work in prose Der Zeyger Vos Ibern Kop were first written in Yiddish. As stated earlier, the original Yiddish manuscript of two of these novels, Salamandra and Piepels, were never published. These  four novels portray the Holocaust period; the other two – known in Hebrew as Haimut (Phoenix Over the Galilee) and Tsofen Edma (in English: Shiviti and in Yiddish: Di Zeung) which describe the renewal of the survivor Harry Preleshnik's (Katzetnik's) life in Israel, were apparently first written in Hebrew.
Following the Holocaust, Yechiel Fajner established a literary model in Jewish literature for those who survived and were committed to write about what happened to the Jews in Europe during the Second World War. His realism, which borders on naturalism, evoked antagonistic reactions in some literary circles in Israel and abroad. Other critics recognized his works as among the most important contributions to Holocaust literature. Katzetnik never considered himself a writer of literature, but rather claimed that he was a chronicler and wrote the chronicle of a Jewish family in the twentieth century. The importance of his literary-historical testimony has yet to be fully appreciated.
Footnotes/Bibliography
1. Yechiel Szeintuch, Katzetnik 135633: A Series of Dialogues with Yechiel De-Nur, edited by Carrie Friedman-Cohen, Jerusalem, Ghetto fighters' House and the Dov Sadan Institute at the Hebrew University, 2003 (Hebrew)
2. Leon Yudkin, "Ka=Tzetnik 135633 (Yehiel Dinur)", Dictionary of Literary Biography, vol. 299 (Holocaust Novelists), Ed. Efraim Sicher, Detroit, Bruccoli Clark Layman (Gale), 2004, pp. 157-165.
3.Anthony Rudolph, "Ka-Tzetnik 135633", Jewish Writers of the Twentieth Century, editor, Sorrel Kerbel; assistant editors, Muriel Emanuel, Laura Phillips, New York, Fritz Dearborn, 2003, pp. 267-268.
4. Yechiel Szeintuch, "The Myth of the Salamander in the Work of Katzetnik", Partial Answers, 3/1, Jerusalem, Magnes Press, January 2005, pp. 101-132.
5.Oren Segal, Mabat Aher Ba"Planeta Haaheret": Kriya Mehudeshet Beshloshet Sfarav Harishonim Shel Katzetnik, MA Thesis, Tel Aviv University, January 2005. (Hebrew)
6. Beatrice Lang-Caplan, Orthodox Yiddish Literature in Intrawar Poland, Columbia University, 2005. (Dissertation)
7. Yechiel Szeintuch, Myth and History in Katzetnik's Writings, edited by Carrie Friedman-Cohen, Jerusalem, the Dov Sadan Institute at the Hebrew University & the Carmel Publishing House, 2008-forthcoming.
3)----------------------------------------------------
Date: 28 October 2007
From: Robert Goldenberg
Subject: Arkadi Gendler's "Mayn shtetele Soroke"
מײַן שטעטעלע סאָראָקע                      
(פֿון אַרקאַדי גענדלער)
װי עס פֿליסט דער אַלטער דניעסטר
צװישן בערג און צװישן טאָל
שטײט פֿאַרחלומט מײַן סאָראָקע
מיט אַ פֿעסטונג פֿון אַמאָל
דאָרטן אין אַ ייִדיש געסל
האָט מײַן מאַמע מיך געװיגט
און אַ װיג־ליד מיר געזינגען [געזונגען =כלל-שפראַך]
װעלכע האָט מײַן האַרץ דערקװיקט ...
דאָרטן האָב איך בײַ אַ רבין
אױסגעלערנט אַלף־בית
בײַ מײַן אַרבעט פֿלעגן רינען
פֿון מײַן שטערן טײַכן שװײס
בײַ דעם שײנעם קערצן בריקל [קורצן = כלל-שפראַך]
דאָרט שפּאַצירט האָב איך מיט פֿרײַנד
דאָרט באַגעגנט זיך מיט ליבע
װעלכע דױערט נאָך ביז הײַנט...
ס'האָבן װילדע, בײזע װינטן
מיט מײַן הײמאַט מיך צעשײדט [הײמאַט = [NHG
און דעם עולם פֿון דעם שטעטל
אױף דער גאַנצער װעלט צעשפּרײט
כאָטש פֿאַרלאָפֿן זענען יאָרן
נאָר ניט אױסגעהײלט מײַן שמאַרץ
כ'װעל דיך קײן מאָל ניט פֿאַרגעסן
זינגט מײַן ליד נאָך אין מײַן האַרץ...
4)----------------------------------------------------
Date: 30 October 2007
From: David Mazower.
Subject: Two Songs by Kishenev Folklorist and Composer Arkady Gentler
a. Yiddish
1. צום שטאַם
(װערטער און מוזיק  פֿון אַרקאַדי גענדלער)
לעבן די ברעגן פֿון דניעפּער שטײט אַ שטעטעלע
ס'איז זאַפּאָראָזשע דער נאָמען,
ס'איז דאָ מײַן זײדע, אַמאָליקע יאָרן
אַהינצו צום לעבן געקומען.
דאָרטן האָט ער אױסגעבױעט אַ שטיבעלע
װוּ ס'איז געבױרן מײַן טאַטע
דאָרטן פֿאַרפֿלאַנצט האָט ער גערטנער און טרױמען
פֿון ימען און לענדער פֿון װײַטע.
רעפֿרען:
האָט זיך פֿון דאָרטן אין גיכן צעשפּרײט
אױף װעגן און לענדער, אױף שטעטלעך און שטעט:
משהלעך, שלמהלעך, שרהלעך, לאהלעך
בערעלעך, פּערעלעך, מענדלס און חיהלעך,
מירעלעך, צירעלעך, װעלװלס און חײַמס
ס'מאַכן דאָרט אַלע לחײַם.
חוהס און רײזעלעך, מאָטעלעך, יאָסעלעך,
זײ מאַכן לחײַם שױן אַלע.
ס'האָבן ניט לאַנג זיך צעװיגט און צעהױדעט
דעם זײדנס דעם ליבנס קינדס קינדער
האָבן זײ פֿעסט זיך געשטעלט אױף די פֿיסעלעך
ס'איז דאָך אַ גליק און אַ װוּנדער.
דאָרטן געבױעט משפּחות און הײמען
מיט ליבע באַצירטע מיט בלומען
דאָרטן געזונגען אַמאָליקע לידעלעך
דאָך זיך געביטן די נעמען:
רעפֿרען:
האָט זיך פֿון דאָרטן אין גיכן צעשפּרײט
אױף װעגן און לענדער, אױף שטעטלעך און שטעט:
באַרבאַראַ, לינדע, קריסטינע און ראָזי,
לײַאָנעל, נאַנסי, עדװאַרד, ליליאַן,
דזשערי, פֿיליפּ, מערילין און ראָזאַלי
ס'מאַכן דאָרט אַלע לחײַם.
גאָרדאָן און ראָדזשער, פֿראַנציסקאָ און יודזשין,
זײ מאַכן שױן אַלע לחײַם.
ס'האָט אױף דער װעלט זיך צעבליט שױן דער פֿרילינג,
און אָנגעפֿילט הערצער מיט ליבע,
ס'האָבן די צאַרטע און װאַרעמע װינטלעך
די שטימונג פֿאַרטריבן די טריבע.
כ'האָב די משפּחה פֿאַרזאַמלט בײַם דניעפּער
פֿאַרשידענע צװײַגן צוזאַמען
און אױף אַ שיף אָפּגעפֿירט זײ צו װײַזן
די ערטער פֿון װאַנען זײ שטאַמען.
רעפֿרען:
האָט זיך פֿון דאָרטן אין גיכן צעשפּרײט
אױף װעגן און לענדער, אױף שטעטלעך און שטעט
משהלעך, שלמהלעך, שרהלעך, לאהלעך,
בערעלעך, פּערעלעך, מענדלס און חיהלעך,
מירעלעך, צירעלעך, װעלװלס און חײַמס
ס'מאַכן דאָרט אַלע לחײַם
חוהס און רײזעלעך, מאָטעלעך, יאָסעלעך,
זײ מאַכן לחײַם שױן אַלע.
2. זינגט אױף ייִדיש
(װערטער און  מוזיק פֿון אַרקאַדי גענדלער)
מיט אַ פֿידל, אָן אַ פֿידל
וידער קלינגט אַ ייִדיש לידל
מאַמע-לשון – ס'איז דאָך אַ מחיה.
כּלי־זמר-הײַנטיקע חכמים
שפּילן ייִדישע ניגונים,
צװישן אַלטע לידער שפּילט מען נײַע.
כאָטש אױף ייִדיש לאַנג געשװיגן,
זינגען מיר מיט פֿאַרגעניגן,
מ'גײט דערבײַ אַ טענצל מלא-טעם.
טאָמער פֿעלט אַ גראַם צום לידל,
צי אַ סטרונע בײַ דעם פֿידל
זינגט מען אונטער: טשירי-בירי-באָם
רעפֿרען:
טשירי-בים, טשירי-באָם,
זינגט באַזונדער צי אין אײנעם,
טשירי-בים, טשירי- באָם,
און פֿאַר קײנעם זיך ניט שעמען,
טשירי-בים, טשירי-באָם,
טשירי-בים-באָם-בים-באָם-באָם
נאָך דעם שבתדיקן קידוש,
זינגט מען זמירות אױך אױף ייִדיש,
ס'זינגען מיט אַפֿילו די רבנים.
זאָלן אַלע ייִדן װיסן:
סײַ אױף חתונות און בריתן
יידיש זינגען אַלע מחותנים.
אױף קאָנצערטן, פֿעסטיװאַלן,
פֿליסן נײַע, פֿרישע קװאַלן,
יונג און אַלטע אין אײנעם זינגען לידער.
חנה, זלמן, רײזל, איציק,
משה, לײבל מיטן סמיטשעק,
אַלע שװעסטער, אַלע זײַנען ברידער.
רעפֿרען:
יידיש װידער װערט געבױרן,
ס'איז דער שורש ניט פֿאַרלױרן,
ס'פֿײַער אױפֿן פּריפּעטשיק ניט פֿאַרלאָשן.
יידן זײַנען אײן משפּחה,
שיקן אומעטום אַ ברכה,
מ'רעדט, מ'שרײַבט, מ'זינגט אױף מאַמע-לשון,
מאָסקװע, פּעטערבורג און קיִעװ,
זאַפּאָראָזשיע, תל-אָביב,
כּרים, אָדעס, ניו-יאָרק, ירושליִם,
סאַן-פֿראַנציסקאָ און בערדיטשעװ,
יעדע שטאָט און יעדער ייִשובֿ,
מאַכן דאָרט אױף ייִדיש אַ לחײַם.
רעפֿרען:
b. Romanized
1. Tsum  shtam
(words and music by Arkady Gendler)
Lebn di bregn fun dniepr shteyt a shtetele
S'iz Zaporozhe der nomen
S'iz du mayn zeyde, amolike yorn
Ahintsu tsum lebn gekumen.
Dortn hot er oysgeboyet a shtibele
Vu s'iz geboyrn mayn tate
Dortn farflantst hot er gertner un troymen
Fun yamen un lender fun vayte.
Refren:
Hot zikh fun dortn in gikhn tseshpreyt
Oyf vegn un lender, oyf shtetlekh un shtet:
Moyshelekh, Shloymelekh, Surelekh, Lealekh,
Berelekh, Perelekh, Mendls un Khayelekh,
Mirelekh, Tsirelekh, Velvls un Khayims
S'makhn dort ale lekhayim.
Khaves un Reyzelekh, Motelekh, Yoselekh,
Zey makhn lekhayim shoyn ale.
S'hobn nit lang zikh tsevigt un tsehoydet
Dem zeydns dem libns kinds kinder
Hobn zey fest zikh geshtelt oyf di fiselekh
S'iz dokh a glik un a vunder.
Dortn geboyet mishpokhes un heymen
Mit libe batsirte mit blumen
Dortn gezungen amolike lidelekh
Dokh zikh gebitn di nemen:
Refren:
Hot zikh fun dortn in gikhn tseshpreyt
Oyf vegn un lender, oyf shtetlekh un shtet:
Barbara, Linde, Kristine un Rozie,
Layonel, Nansi,  Edvard, Lilian,
Dzsheri, Filip, Merilin un Rozalie
S'makhn dort ale lekhayim
Gordon un Rodzsher, Frantsisko un Yudzshin,
Zey makhn shoyn ale lekhayim.
S'hot oyf der velt zikh tseblit shoyn der friling,
Un ongefilt hertser mit libe,
S'hobn di tsarte un vareme vintlekh
Di shtimung fartribn di tribe.
Kh'hob di mishpokhe farzamlt  bam dnieper
Farshidene tsvaygn tsuzamen
Un oyf a shif opgefirt zey tsu vayzn
Di erter fun vanen zey shtamen.
Refren:
Hot zikh fun dortn in gikhn tseshpreyt
Oyf vegn un lender, oyf shtetelekh un shtet
Moyshelekh, Shloymelekh, Surelekh, Lealekh,
Berelekh, Perelekh, Mendls un Khayelekh,
Mirelekh, Tsirelekh, Velvls un Khayims
S'makhn dort ale lekhayim
Khaves un Reyzelekh, Motelekh, Yoselekh,
Zey makhn lekhayim shoyn ale.
2. Zingt oyf yidish
(words and music by Arkady Gendler)
Mit a fidl, on a fidl
Vider klingt a yidish lidl
Mame-loshn – s'iz dokh a mekhaye.
Klezmer-hayntike khakhomim
Shpiln yidishe nigunim,
Tsvishn alte lider shpilt men naye.
Khotsh af yidish lang geshvign,
Zingen mir mit fargenign,
M'geyt derbay a tentsl mole-taam.
Tomer feylt a grom tsum lidl,
Tsi a strune bay dem fidl
Zingt men unter: tshiri-biri-bom
Refren:
Tshiri-bim, tshiri-bom,
Zingt bazunder tsi in eynem,
Tshiri-bim, tshiri bom,
Un far keynem zikh nit sheymen,
Tshiri-bim, tshiri-bom,
Tshiri-bim-bom-bim-bom-bom……
Nokh dem shabesdikn kidesh,
Zingt men zmires oykh af yidish,
S'zingen mit afile di rabonim.
Zoln ale yidn visn:
Say oyf khasenes un brisn
Yidish zingen ale mekhutonim.
Oyf kontsertn, festivaln,
Flisn naye, frishe kvaln,
Yung un alte in eynem zingen lider.
Khane, Zalmen, Reyzl, Itsik,
Moyshe, Leybl mitn smitshek,
Ale shvester, ale zaynen brider.
Refren:
Yidish vider vert geboyrn,
S'iz der shoyresh nit farloyrn,
S'fayer afn pripetshek nit farloshn.
Yidn zaynen eyn mishpokhe,
Shikn umetum a brokhe,
M'redt, m'shraybt, m'zingt af mame-loshn,
Moskve, Peterburg un Kiev,
Zaporozhye, Tel-Aviv,
Krim, Odes, Nyu-York, Yerushalaim,
San-frantsisko un Berditshev,
Yede shtot un yeder yishev,
Makhn dort af yidish a lekhaim.
Refren:
[transcribed by David Mazower]
c. scores
<![if !vml]>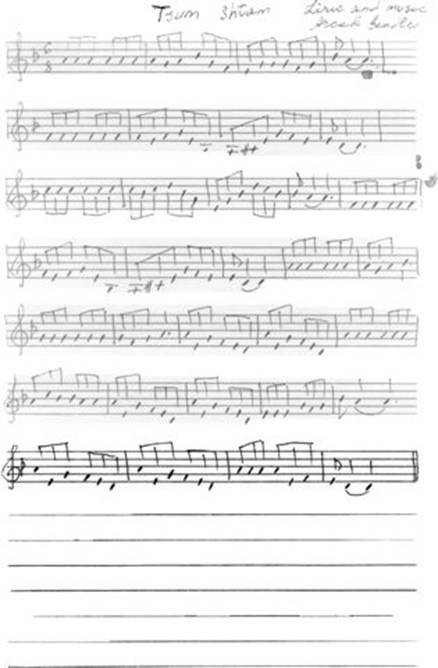 <![endif]>
<![if !vml]>
<![endif]>
5)-------------------------------------
Date: 28 October 2007
From: citation from Jerusalem Post
Subject: Important announcement in Jerusalem Post  16 October 2007:
Moti Zisser … has set the wheels in motion for a permanent home for Yiddish Theater and for Yiddish cultural endeavor in general. Following the death of dancer, choreographer and creator of the Bat Dor Dance Company Jeanette Ordman earlier this year, Zisser purchased the company premises and assets with a view to providing Yiddishpiel with all its needs. …[D]iscussions have taken place about the possibility of recording productions live and transmitting them via Internet or satellite or both.
6)-----------------------------------------------------
Date: 28 October 2007
From: ed.
Subject: Books Received
Hebrew Poems of His Youth by Eliahu Sela-Saldinger
Eliahu Sela-Saldinger. Sekhishey Transnistria. Leket shirey ne'urim ve-bakhrut. Jerusalem: Zur-Ot Press, 2007. [English title: Transnistrian's Aftergrowth. A Collection of Youth Poems]. ISBN: 965-7188-37-7. The author of these Hebrew poems has written a three-volume study of the Yiddish poet Yankev Fridman [Jacob/Yaakov Friedman] (1910-1972]: Meytar karua rotet be-alata [A Torn Chord Trembling in the Dark] [Hebrew with some Yiddish and English], Tel-Aviv: H. Leyvik, 1996 [2 volumes] and a third volume that included original Friedman mss. from the Bershad ghetto.
<![if !vml]>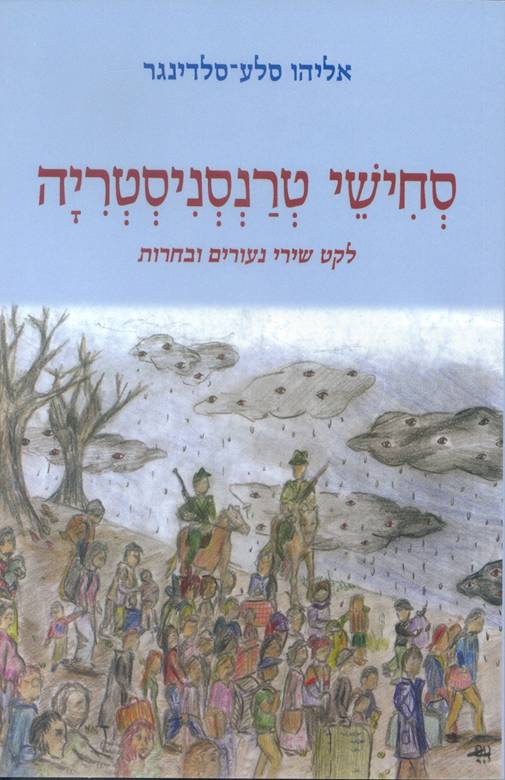 <![endif]>
------------------------------------------------------------------------------
End of The Mendele Review Vol. 11.011
Editor, Leonard Prager
Subscribers to Mendele (see below) automatically receive The Mendele Review.
Send "to subscribe" or change-of-status messages to:  listproc@lists.yale.edu
        a. For a temporary stop: set mendele mail postpone
        b. To resume delivery: set mendele mail ack
        c. To subscribe: sub mendele first_name last_name
        d. To unsubscribe kholile: unsub mendele
*** Getting back issues ***
The Mendele Review archives can be reached at:  http://yiddish.haifa.ac.il/tmr/tmr.htm
Yiddish Theatre Forum archives can be reached at: http://yiddish.haifa.ac.il/tmr/ytf/ytf.htm
Mendele on the web: http://shakti.trincoll.edu/~mendele/index.utf-8.htm
***